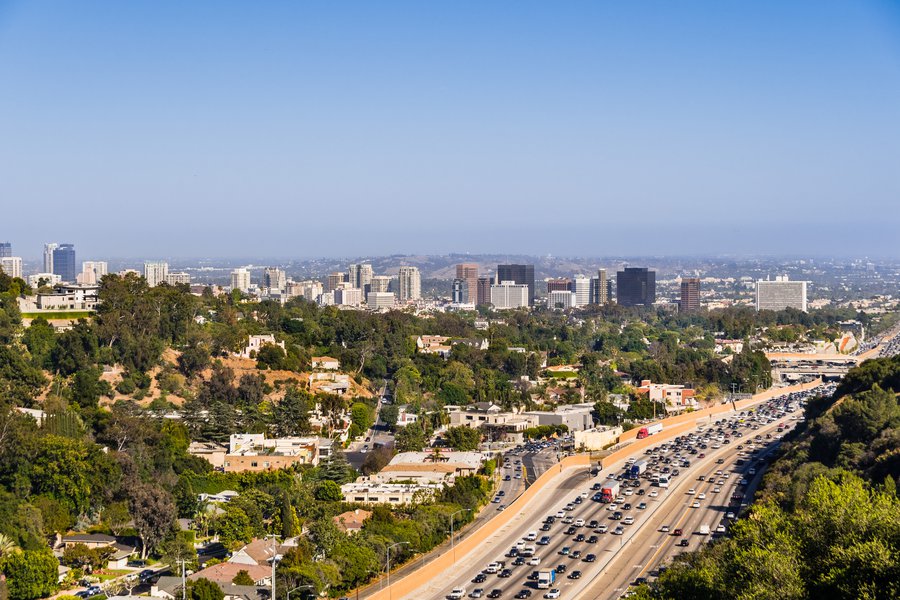 Note: Our market forecast includes Los Angeles data and data from its surroundings, including Long Beach and Anaheim.
Why consider Los Angeles for real estate investing?
Bordered by mountains, deserts, and the Pacific Ocean, Los Angeles is the second-largest city in the United States, behind New York City. Though the city only covers approximately 469 square miles, it is home to around four million people. The Los Angeles metropolitan statistical area, which includes the Inland Empire as well as Ventura County, expands to 13.1 million.
Also known as "The City of Angels," Los Angeles is home to a number of diverse populations and neighborhoods, meaning that investors of all kinds can find something to fit their investment strategy.
The state of the market
While real estate markets across the country have been profoundly impacted by the COVID-19 pandemic, only a few of the markets we've covered have been hit quite as hard as the Los Angeles area. Investors who are thinking of adding this market to their portfolios should be aware of the following trends.
Rental vacancies are up
Rental vacancies are up 2.5% in Los Angeles on a year-over-year basis. As a result, rental rates are also down. Though, notably, they're only down 0.4%.
However, investors will be heartened to know that this is likely to be a short-term issue. Vacancies are up as a result of increase in the accessibility of remote work, but as LA seems to be preparing to reopen in the very near future, it is likely that people will return to the office and vacancies will soon start to decrease.
Inventory is better than average
Although the LA metro area is currently reporting that it only has 2.2 months worth of housing inventory, it's worth noting that number is higher than the national average of 1.6 months. An increase in the number of both single-family housing permits and multifamily housing permits should also help ease the inventory shortage in the not-too-distant future.
Unemployment is relatively high
Investors should also be aware that unemployment is still relatively high in Los Angeles, which could lead to longer vacancies. As of February 2021, the unemployment rate is 9.9%, a figure that is up 5.6% since the same time last year and is significantly higher than the national average of just 6.2%. Still, as LA prepares to enter the next phase of its reopening plan, odds are that many more jobs will become available and the rate should begin to drop.
Los Angeles Housing Demand Indicators
All data and charts supplied by Housing Tides by EnergyLogic.
One look at Los Angeles's housing demand indicators will tell you that the city's real estate market has been profoundly impacted by the pandemic and is still trying to find its feet.
Unemployment trends
While unemployment has been high across the country as a result of the coronavirus pandemic, few areas we've covered have been impacted quite as hard as Los Angeles. At its peak in April 2020, the unemployment rate hit a staggering 17.9%, which was much higher than the national average of 13.3% at the time.
Since then, this metric has begun to make a recovery. However, as of March 2021, it's still at 9.9%, which is up 5.6% year over year and well above the national average of 6%.
Originally Appeared On: https://www.fool.com/millionacres/market/california/los-angeles/