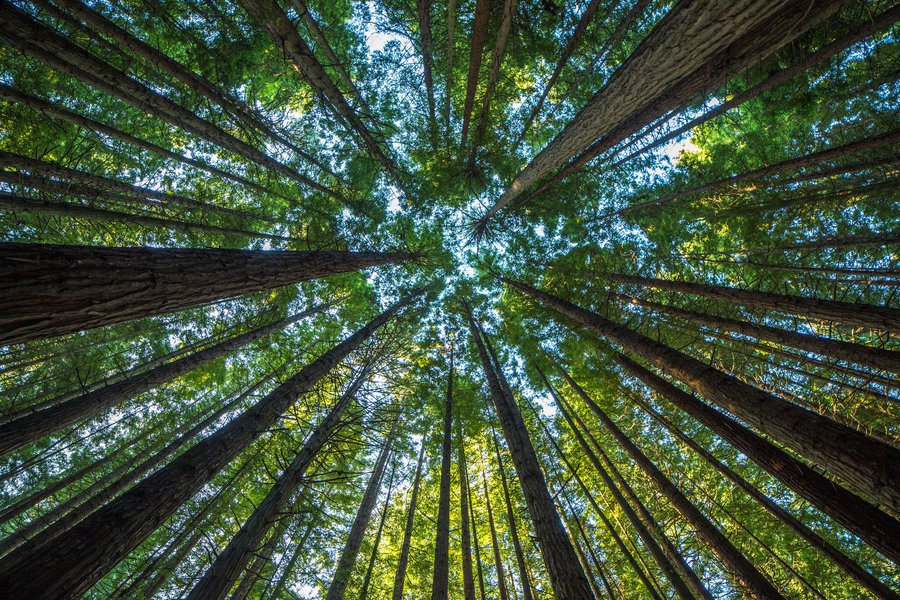 Shares of timber real estate investment trust (REIT) Weyerhaeuser (NYSE: WY) have nearly doubled over the past year. That's incredible, given that the average REIT, as measured by Vanguard Real Estate ETF (NYSEMKT: VNQ), is only up around 33%. Before you jump aboard this rocket to the moon, here are some things you need to think about.
What timber REITs do
At its core, Weyerhaeuser owns timberlands, which is why it's a REIT. That's the same idea that underpins peers like CatchMark Timber (NYSE: CTT), PotlatchDeltic (NYSE: PCH), and Rayonier (NYSE: RYN).
Timber is a very interesting business in many ways. For example, while there's effort in maintaining a healthy forest, most of the hard work is done by the trees themselves (with a helping hand from Mother Nature). Meanwhile, the bounty of the land these REITs own is basically renewable. Indeed, after chopping down a tree, these companies simply plant new ones and start the whole process all over again. Redeveloping a physical building is nowhere near that easy.
In addition, in a world that's increasingly worried about the environment, these REITs are good stewards, providing the world with biodegradable/recyclable wood products with trees that act as carbon traps while they're growing.
That said, there are other facets to the business. One is the sale of land for other purposes, like building homes. A second is leasing land for things like renewable power projects. And a third, which not all timber REITs do, is taking trees and turning them into lumber. Basically, the timber REITs that do this, including Weyerhaeuser and PotlatchDeltic, take their own trees and process them for use in construction and other areas.
A surprise boom
The massive price increase in the shares of timber REITs is not because they own forests — few people get excited about that. It's because there's a current spike in demand for lumber that has pushed the price of this building supply sharply higher. This wasn't the outcome industry watchers foresaw during the coronavirus pandemic and the early 2020 recession.
However, while construction may have been temporarily disrupted, in the end, the pace of activity picked up. Meanwhile, some suppliers had pulled back expecting weak demand. Lumber, like timber, is a commodity, so strong demand and weak supply have led to exactly what your economics class suggests you should expect: higher prices.
There are reasons to believe this supply shortage will continue. First, current demand continues to outpace existing lumber capacity. So as long as construction remains strong, there are likely to be issues. Second, it takes time to build a sawmill. So there's limited new capacity on the horizon to sate the heightened demand being experienced today.
But there's a major fly in the ointment here, and it all goes back to the word "commodity." Supply and demand rarely remain out of whack for very long. That's true even though exuberant investors often put money to work as if today's conditions will persist forever. In fact, in the Southeast United States, timber prices remain weak despite huge demand, and high prices, for lumber because there aren't enough mills to process the available trees. That's a problem that investors should think about very carefully.
In the first quarter of 2021, Weyerhaeuser's timber operation produced adjusted EBITDA of $172 million, up $5 million year over year. Its lumber operations produced adjusted EBITDA of $889 million, up $359 million from the same quarter in 2020 (a nearly 68% increase!). The story was similar for PotlatchDeltic, where timber adjusted EBITDA increased around 9%, but adjusted EBITDA in its lumber operations increased almost 79%.
Those types of increases aren't sustainable over the long term, and with limited ability to increase production, there's something of a natural cap on the ability to take advantage of the current lumber price rally.
Meanwhile, even the timber REITs with less exposure to lumber are getting sucked up in the excitement here. (CatchMark Timber and Rayonier don't have lumber operations, so they aren't as impacted by this issue, and their stocks have lagged the other two names here.)
The risk that's being ignored right now is that commodities are inherently cyclical. Eventually, demand cools off or supply picks up, and prices come back down to a more normal level. While it looks like supply will remain restrained, demand could easily cool if construction slows down enough. Remember, in the Southeast there's an oversupply of trees relative to the capacity to process them that's keeping timber prices weak despite the high demand for lumber.
At some point, that dynamic within the timber sector will eventually play out in some form with lumber. Indeed, the current imbalance benefiting these REITs won't last forever, and when lumber prices fall, timber REITs with large lumber operations will see their financial performance decline.
Tread carefully
There's no way to tell when lumber prices will come back down to earth, but it will eventually happen. Meanwhile, the stocks of timber REITs have rallied strongly, pricing in a lot of good news that, in the end, is unlikely to last.
Without intending to make a pun, there's an old Wall Street saying that applies here: Trees don't grow to the sky. If you are looking at timber REITs today, you may be too late to this party and, when balance eventually returns to this commodity-driven business, you could be left to clean up the mess. The hardest-hit names when the downturn comes, meanwhile, will likely be the ones with the biggest lumber-related gains.