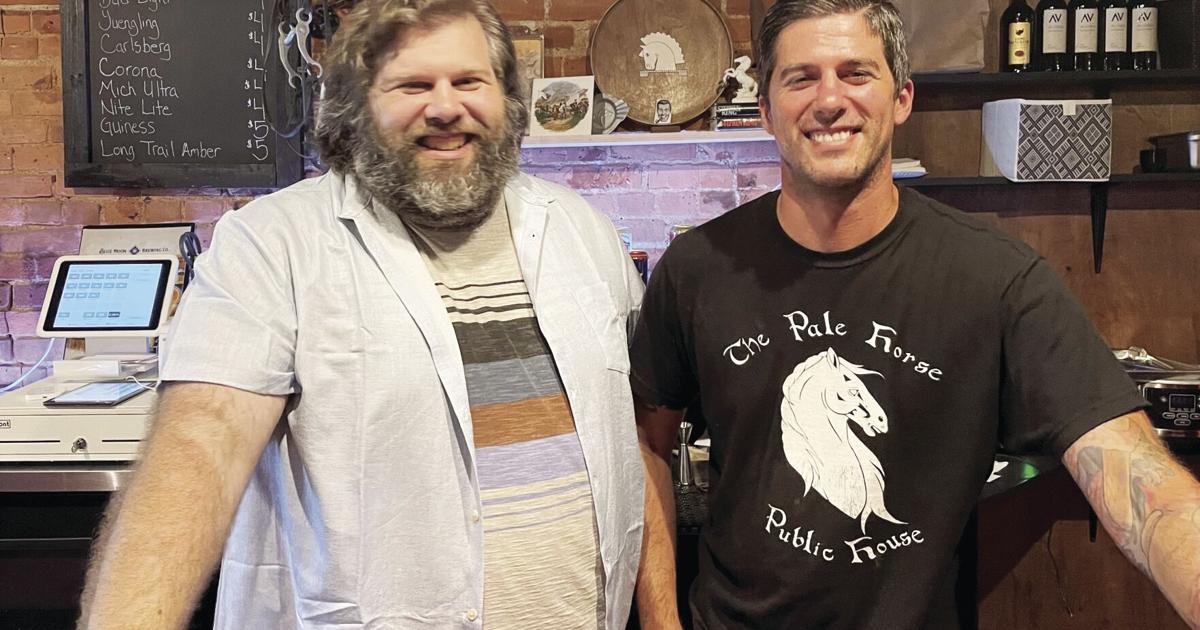 Edmeston native Eric Roberts swapped the bass for barbecue.
Together with his brother, Nate Roberts, the 38-year-old former professional musician launched The Pale Horse Smoke House at 84 Water St. in Oneonta.
The site, Eric Roberts said, dovetails his passions.
"When I was younger, I was a musician in Oneonta and played around town for many years, back when there were many music venues," he said. "Then I actually met members from (the band) Gym Class Heroes when the drummer, Matt McGinley, was going to SUNY Oneonta. I then embarked on a 10-year-long professional music gig (as the band's bass player) and during this touring is when I discovered southern barbecue. My first taste of barbecue kind of blew my mind. If you grew up in New York, you grew up with Brooks' chicken — which is historically called Cornell chicken — but the low and slow barbecue is not very represented up here, and I started tasting it and realizing there's a difference from South Carolina to North Carolina to Tennessee to Kentucky and obviously Texas … so I really grew to love it.
"The band's last record came out 10 years ago and I'd moved back home to be with my family," Eric continued. "When I found free time after touring, I bought some smokers and started smoking meats. We found this location and my brother and I checked it out and said, 'Hey, let's open a music venue because all the venues I remember are gone … and let's include some barbecue. I'd been doing amateur barbecue for about 10 years, and my father and I started doing some competitive barbecuing and ended up winning some big awards. It wasn't until I started doing competitive stuff … that I started taking it seriously and realized this is something I could do."
Though The Pale Horse opened in 2019, Nate Roberts, 39, said, its full launch was delayed because of licensing issues and the COVID-19 pandemic. The brothers also spent a year renovating the space, following a roughly 10-year vacancy.
"It was a totally derelict building," Eric said. "We renovated … and put in a room with a 200-person occupancy and put in a stage and, later, included the smokehouse that we built outside. So, we do barbecue, live music and we have six taps and like to showcase New York state breweries."
Eric said he does "all the kitchen stuff," while Nate "handles booking and the venue and event management," and both curate the craft beer selection.
Barbecue classics, Nate and Eric said, are emerging as customer favorites.
"The ribs are the big one right now, but I just got equipment to make my own sauces," Eric said, noting plans to add "the king of all barbecue," brisket, soon. "They're St. Louis-style pork ribs, dry-rubbed and smoked with hickory. It's very simple and I don't sauce them or anything. For sides, people really like the mac 'n' cheese and the potato salad.
"Something a little neat that we do here is … showcase New York state breweries and pair them with our barbecue," he continued. "To bring out the spiciness, we might pair it with an IPA, or for a palette cleanser, a Pilsner; we like to talk to our customers about how to elevate our barbecue."
"The meat stands on its own," Nate said. "And our pulled pork is also pretty insane. Everyone who has come here has raved (about the food) so far. It's just kind of been word-of-mouth; we do advertise our shows, so people discover us through our live music, but haven't discovered us as a restaurant yet."
But, the brothers said, folks are hungry for the combination.
"The great thing about barbecue is that everyone loves barbecue," Eric said. "As far as our outreach, I'd really like to tap into the Catskill region. I've always seen Oneonta as a Catskill city. I'm a big lover of the Catskills and everything that's going on there. So, as far as our demographic, it's everyone and anyone. It's good food, good beer and good music."
"We've already had substantial numbers for shows drive in from Albany and Binghamton and the Utica-Rome-Syracuse area and northern Pennsylvania," Nate said. "People want live entertainment; COVID made us all house-crazy and we all want to get out and have a good time." Shows, he said, have included regional acts, performing heavy metal, punk, rock 'n' roll and alternative.
Shows, Nate said, start at 8 p.m. and the kitchen closes at 9, though there is a late-night menu of nachos and sliders available through closing.
Eric said he plans to fine-tune his pitmaster skills to highlight local flavors.
"A lot of barbecue has its history in the South and, for that to translate and say, 'Hey, we're doing our own thing' … it's the same technique, but it's getting regional flavors," he said. "Eventually, I'd like to start smoking our meats with sugar maple and shagbark hickory, because they're local trees. and obviously maple syrup is big here, so we use it as a sweetener in some of our recipes. We definitely have a focus on regional flavors, but would like to do that without taking away from the essence or history of barbecue. That's something we need to be developing over time, so that's definitely a direction I'm going in."
Nate and Eric said that, alongside brisket, they're introducing lunch hours this month and Sunday barbecue brunch, featuring items such as pulled-pork quiche, rib-tip hash, brisket quesadilla and mimosas. DoorDash service is also being added, Nate said.
The Pale Horse is open for lunch from 11 a.m. to 2 p.m., and dinner from 5 p.m. to 11, Wednesday through Saturday. The Friday, Aug. 19 show will feature southern rock and country.
For menu or event information, visit palehorsesmokehouse.square.site or find "The Pale Horse Smoke House" on Facebook.
>>>ad: Don't Miss TODAY'S BEST Amazon Deals!

Originally Appeared Here