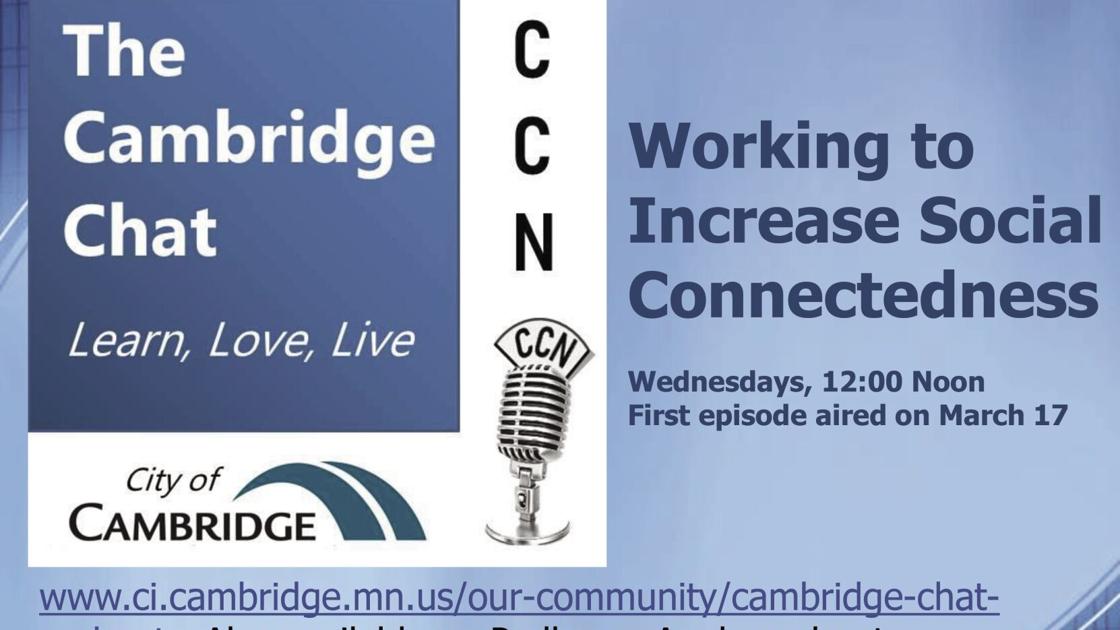 Helping small businesses during the pandemic, as well as business and housing growth, were highlighted during the recent Cambridge State of the City of address.
The State of the City was held March 21 during the North 65 Chamber of Commerce monthly meeting and led by Cambridge Mayor Jim Godfrey.
"The state of the city seems to be in good health and part of that is because of the work the city has been doing, partnering with businesses, with community members, with civic groups, with the community at large, with the governments at higher levels than us, making sure that we are committed to keeping the community strong, despite the pandemic," Godfrey said.
Godfrey explained when the city received its federal CARES Act funding, it established the Cambridge Cares Business Assistance Fund to help support small businesses during the pandemic. In total, 32 businesses received some form of assistance with $242,886 being distributed. Other financial support options to businesses through the city included suspension of revolving loan fund payments, suspension of water or sewer bill late penalties and loans generated for equipment replacement.
As for restaurants, the city arranged for outdoor dining for the restaurants who requested it, including Sidelines, Chapala, Leader and Cambridge Bar and Grill. The city provided barricades for the restaurants along Second Avenue Southeast, and provided traffic cones for restaurants that needed a dedicated pickup place for takeout orders.
"For the whole community, we really focused on making sure that the mental health of our community was continuing and being improved by continuing with our outdoor concerts and our kids programming, still while maintaining those COVID-19 protocols and social distancing requirements," Godfrey said. "During the height of quarantine time, people were stuck in their houses for weeks, maybe months at a time. This gave them, on a nice summer day, a chance to get out and be socially distanced and enjoy some music. It generated traffic in Cambridge and so hopefully the businesses benefited by having access to more customers then they otherwise would have had, had they just stayed at home."
Godfrey said the city partnered with Cambridge-Isanti Schools to provide outdoor practice and games for local hockey teams, noting ice rink reservations "went through the roof" this past year due to the city having the only outdoor refrigerated rink for 50 miles. The city also enhanced other outdoor park options, adding additional pickleball courts and began work on Parkwood Park, which will have shuffle board, horseshoe pits, a wheelchair swing, a short walking trail and other outdoor exercise equipment.
This past summer, the city completed the reconstruction of 16th Avenue and Old South Main Street, for a cost of $5.3 million. This past summer, the new Cambridge water tower was constructed at a cost of $2.1 million, with a storage capacity of 750,000 gallons. This water tower replaced a smaller water tower located by the Cambridge Community Garden.
"The pandemic also exposed something that we suspected was true, that we have a housing shortage in Cambridge," Godfrey said. "We have new workers, new employees, new businesses opening up and there was no place available for them to move into in the city of Cambridge. We did a rental study recently and our rental rate was 99.5%, which means that of all the rental places out there, there was only 0.5% available for rent at any given time, which makes it really hard to move into a community to pursue new opportunities."
In 2020, the city added a mixture of market rate and affordable units, including 116 dwelling units encompassing 56 single-family homes, 24 townhomes and 36 apartments (Roosevelt Gardens).
New housing in 2021 includes the development of Cambridge Cove near County Road 14, near GracePointe Crossing. Cambridge Cove will consist of 206 units, including patio townhomes and single-family homes. Heritage Greens, to be located near 11th Avenue Southwest and Fern Street by Central Green Park, will consist of an apartment building with 150 units and 33 townhomes. Unique Opportunities is also looking at constructing a 48-unit apartment building across the street from the Isanti County Government Center.
"So that's some of the new housing coming in and that will be a nice opportunity for our businesses because of course as your customer base grows, businesses grow, and it's important that we maintain both a nice equilibrium so you have enough customers, enough employees available and enough businesses to serve these new customers and new employees," Godfrey said. "You have to strike a balance in your growth so that it's a reasonable amount of growth and it's sustainable."
Godfrey shared positive business news, announcing that Harbor Freight will be moving into the former Office Max building and a new fast-food, casual restaurant will be moving into the former Sonic location in the fall. He added that 915 South Main Street Nutrition and Get Away Wellness opened this year and Shift Physical Therapy opened in 2020. Godfrey mentioned Kwik Trip will be constructing a new facility at the location known as Westrom's Corner (intersection of South Main Street and Highway 65) and expects to be open in the summer of 2022.
Godfrey said the city launched a podcast, called The Cambridge Chat, with the first episode airing on March 17, to help the city stay connected with its residents. The podcast air every Wednesday at noon. More information on the podcasts can be found on the city's website, www.ci.cambridge.mn.us.
The city remains committed to working to increase social connectedness by offering a chat bench on Main Street as well as summer concerts, arts in the park and summer kids programming.
"It's important to have these kinds of activities, in my mind, because if you don't do these community-building activities, what you have is a collection of buildings and not really a town," Godfrey said. "Everybody says it's great to have that small-town feel, but you have to work to maintain that, especially as we grow."
Godfrey recognized the hard work of his fellow City Council members and city staff.
"Our entire city staff has done a great job in difficult conditions over 2020, making sure we have stayed safe and have kept our strength," Godfrey said.
Originally Appeared On: https://www.hometownsource.com/county_news_review/news/local/business-housing-growth-highlighted-during-cambridge-state-of-the-city/article_0626edf6-af6b-11eb-9782-375bf79c6d61.html