Harrison Butker is going to be playing for another Super Bowl with the Kansas City Chiefs.
Butker nailed the game-winning field goal to send the Chiefs to their third Super Bowl in four years. 
In what was a terrific game, Butker was able to make multiple field goals to be able to take down Joe Burrow and the Cincinnati Bengals. The Chiefs will be facing the Philadelphia Eagles in two weeks in Arizona. 
Butker was able to score the first six points of the game, making a 43-yard field goal to take an early 3-0 lead. He then hit a 24-yard field goal at the start of the second quarter to get the Chiefs a 6-0 lead. Butker was perfect on his extra-point attempts as well and that has been a problem for him this year. 
Denny Medley-USA TODAY Sports
Butker is going to be the only former Yellow Jacket in the Super Bowl this season. 
Butker has been one of the best kickers in the NFL for the past few seasons, but he has struggled with injuries and some misses this season. The good thing for the Chiefs is that he has been great during the postseason and even had a touchdown-saving tackle against the Jacksonville Jaguars. 
During the regular season, Butker is 18-24 on field goals and 38-41 on extra points. His six missed field goals are the most in his NFL career. 
Follow us on social media for the latest on Georgia Tech Athletics!
Facebook: All Yellow Jackets
Twitter: @AllYellowJacket
Follow Jackson on Twitter: @jacksoncaudell
RECOMMENDED ARTICLES
Football
Former Georgia Tech Kicker Harrison Butker Sends Kansas City To The Super Bowl
By Jackson CaudellJan 29, 2023 10:03 PM ESTJan 29, 2023 10:03 PM EST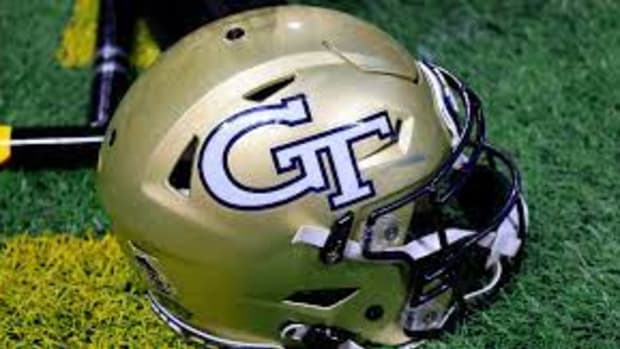 Football Recruiting
Georgia Tech Gets 2023 PWO Commitment From In-State QB Ben Guthrie
By Jackson CaudellJan 29, 2023 8:40 PM ESTJan 29, 2023 8:40 PM EST
Football
Jordan Mason, 49ers Playoff Run Comes To An End Vs Philadelphia Eagles
By Jackson CaudellJan 29, 2023 6:07 PM ESTJan 29, 2023 6:07 PM EST
See all of the latest Tech News at AllYellowJackets.com
Check out the Georgia Tech Homepage
Listen to the Goal Line Stand Podcast for the best Georgia Tech and national college football coverage!
More Georgia Tech Related Content:
Georgia Tech lands PWO commitment from 2023 QB Ben Guthrie
Georgia Tech Recruiting Update: 1/22-1/28
Three-star 2024 defensive back Dre Kirkpatrick Jr among weekend visitors for Georgia Tech
2024 Georgia Tech defensive tackle target Champ Thompson commits to Clemson
Former Yellow Jackets Malachi Carter and Ace Eley impress during the 2023 NFLPA Collegiate Bowl
Duke blows out Georgia Tech 86-43
2024 Athlete Elijah McDowell Breaks Down His Weekend Visit To Georgia Tech
Georgia Tech makes the top 11 for four-star athlete Jalewis Solomon
Updated ACC Standings heading into the weekend
Preview: Georgia Tech Basketball vs Duke
>>>ad: Don't Miss TODAY'S BEST Amazon Deals!

Originally Appeared Here