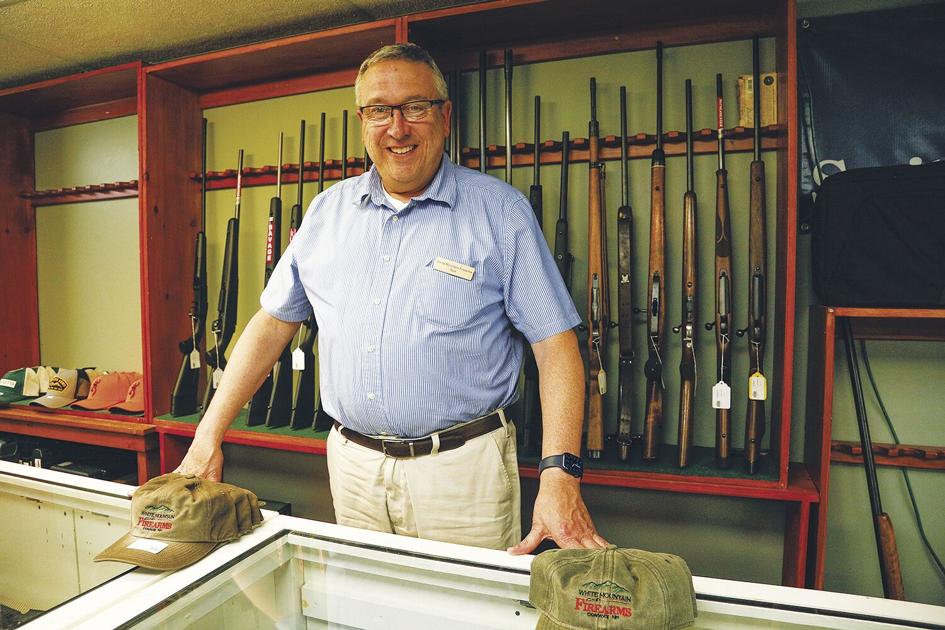 CONWAY — On a recent Saturday, the downstairs basement home to a thriving new gun and outdoors supply store was buzzing.
Conway sportsmen and outdoors enthusiasts have discovered the hideaway of a shop located off Route 16 at 50 White Mountain Highway in the Conway Marketplace shopping center — Dewhurst Outfitters LLC/White Mountain Firearms.
The shop is a firearms, hunting and fishing outdoor retail store.
Owned by well-known local attorney and avid sportsman Tom Dewhurst III, the shop is located down the stairs beneath Dewhurst's law office and Revolution Records.
Dewhurst purchased White Mountain Firearms last fall from former owner Chris Kanzler.
"I didn't know that Chris (Kanzler) was retiring, but when I found out they needed to move their shop from their former location (where Minuteman Press is), I jumped at the opportunity and we moved it here," said Dewhurst.
As it did when Kanzler owned it, the business offers a wide selection of new and used firearms including Ruger, Smith & Wesson, Glock and Kel-Tec, and specialty products such as 511 tactical bags and Phalanx holsters. It also sells a wide array of ammunition.
Under Dewhurst's ownership, the shop has expanded to not only featuring firearms and accessories but also to include hunting, fishing and soon archery supplies as well as apparel.
The shop prides itself on its friendly, knowledgeable staff and wide selection of merchandise.
"We try and provide the opportunity to locals as well as visitors to not have to drive 100 miles to get items. We do a lot of specialty products for gun owners and high-end collectors. We also are all sportsmen and offer advice on everything having to do with the outdoors," said Dewhurst.
We have a good selection of used guns," he added. "We buy and sell items from small and large estates and we take trades. It's a good opportunity for collectors and a good old-fashioned way of doing things."
He said he has been an avid outdoorsman most of his life.
"My father worked in a sporting goods store in 1963 that many locals will remember that used to be located where Bea's Cafe is now (in the same Conway Marketplace where Dewhurst's shop is now," Dewhurst said.
"We bought most of late gunshop owner Richard Patch of Glen's stuff. We're a boutique shop that specializes in things and we carry a lot of things that other places don't carry. We are one of the few gun dealers in the region."
He lauded employee David Normandy for his expertise in fishing. "He is very good with fishing, and he is getting acclimated with guns," said Dewhurst.
The business is open Tuesdays-Saturdays, 10 a.m.-5 p.m., and Sundays and Mondays by appointment.
>>>ad: Don't Miss TODAY'S BEST Amazon Deals!

Originally Appeared Here