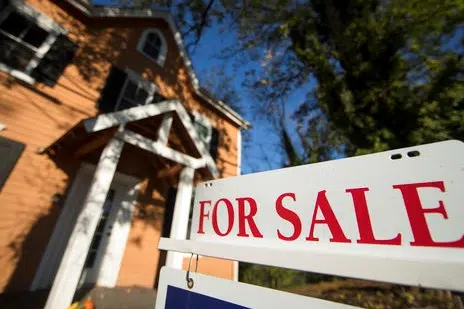 U.S. employers added 559,000 jobs in May, an improvement from April's sluggish gain but still evidence that many companies are struggling to find enough workers as the economy rapidly recovers from the pandemic recession. Last month's job gain was above April's revised total of 278,000. The unemployment rate fell to 5.8% from 6.1%. The speed of the rebound from the pandemic recession has caught employers off guard and touched off a scramble to hire.
A new monthly survey shows the economy in nine Midwest and Plains states remaining strong in the wake of a devastating global pandemic, but the survey's index gauging inflation soared to a record high. The Creighton University Mid-America Business Conditions for May released Tuesday came in at 72.3, down slightly from April's record high of 73.9. Any score above 50 on the survey's indexes suggests growth.  The monthly survey covers the Dakota's and Minnesota.
Mortgage rates were flat to higher this week. The benchmark 30-year home loan remained below the 3% mark amid continued positive indications of the economy's recovery from the pandemic recession. Mortgage buyer Freddie Mac reports that the average for the 30-year rate rose to 2.99% from 2.95% last week. The rate for a 15-year loan was unchanged from last week at 2.27%.
The Labor Market Information Center has released the latest Online Job Openings Report, a monthly summary of online job openings and active résumés from Job Service North Dakota's labor exchange system.  North Dakota had a total of 17,938 open and available online job openings in May 2021, a change of +9.4 percent (+1,542) from the prior month.  There are 2,148 job openings in Region 4 which is comprised of Grand Forks…Walsh…Nelson…and Pembina counties.
The Minnesota Department of Employment and Economic Development (DEED) has reached out to unemployed residents to connect them with employers hiring now. Since March staff have called more than 30,000 Minnesotans as part of the Good Jobs Now campaign who are currently receiving unemployment benefits.
About 450 Xcel Energy customers in the Mayville area are still without power due to an equipment issue at a substation. The outage was reported Friday night after thunderstorms rolled through the area. Company officials said about 1,600 households in Mayville and nearby Portland were affected. Officials say power was expected to be restored to all customers sometime Sunday afternoon.
North Dakota-based MDU Resources Group Inc. has rejoined the Fortune 500 after a decade-long hiatus. The energy and construction company headquartered in Bismarck ranks No. 486 on the annual list of the country's 500 largest publicly traded companies. MDU is the only North Dakota company on the list.
North Dakota DOT Director Bill Panos has been named president of the Western Association of State Highway Transportation Officials.  Panos previously served as VP of the association.  The group provides a forum for exchanging ideas among various transportation departments.
Altru hopes to name a new CEO by the end of the year.  The Board of Directors announced this week that the search is officially underway.  Interim CEO Dave Molmen will continue in that role until a replacement is found.
Choice Health & Fitness and Altru have announced a partnership.  Choice Health & Fitness Performance Enhancement Team and Personal Trainers will utilize space at the Altru Performance Center to facilitate additional athletic development programming and training.  Mike Orr, General Manager of Choice Health & Fitness says the "partnership allows us to continue our team-based care approach to local athletes, through direct access to Altru dietitians, physical therapists, athletic trainers, chiropractors, and physicians."
The Grand Forks Planning and Zoning Commission gave preliminary approval to a rezoning request for a parcel at 702 North Washington this week.  The former used car lot is being targeted for a car repair shop.  The move from B-1 limited business to B-3 general business still needs council approval.
Phase one of ND Rent Help was implemented this week, and replaces the state's Emergency Rent Bridge rental assistance program.  According to the North Dakota Department of Human Services the enhanced program can now assist households at higher income levels and for a longer period of time. The program's income eligibility was increased from 60% of area median income (AMI) to 80% of AMI, which equals an annual income of up to $80,000 for a family of four.
Walmart is unveiling an app for its store workers' phones that allows them to do a variety of tasks from digitally clocking into work to helping locate merchandise and answering customers' questions. It also has a push-to-talk feature to directly communicate with colleagues. As part of the launch, the nation's largest private employer says it plans to offer more than 740,000 store workers a new Samsung smartphone for free by year-end.
The Environmental Protection Agency (EPA) has approved a request for a Section 18 emergency exemption for Ultra Blazer®, enabling North Dakota growers a new tool to combat glyphosate-resistant waterhemp in sugarbeets.  Agriculture Commissioner Doug Goehring said. "This exemption gives growers a new product when early treatments are ineffective."  The exemption allows application on sugarbeet fields in Barnes, Cass, Cavalier, Grand Forks, Pembina, Ransom, Richland, Sargent, Steele, Traill and Walsh counties.
Amazon said Wednesday that it will hold its annual Prime Day over two days in June this year, the earliest it has ever held the sales event. Typically, Amazon holds Prime Day in July.  Last year, Amazon postponed Prime Day to October because of the pandemic and used the sales event to kickoff holiday shopping early. This year, Prime Day will be held from June 21 to June 22.
Minnesota State Community and Technical College announced UMN Crookston Program Director and Criminal Justice Faculty member Dr. Matthew Loeslie will become the Founding Dean for the Inaugural School of Applied Technology at Minnesota State Community and Technical College. Loeslie will be based in Detroit Lakes, Minn., but will serve over several programs on M State's campuses which include Detroit Lakes, Fergus Falls, Moorhead, and Wadena.
>>>ad: Don't Miss TODAY'S BEST Amazon Deals!

Originally Appeared Here