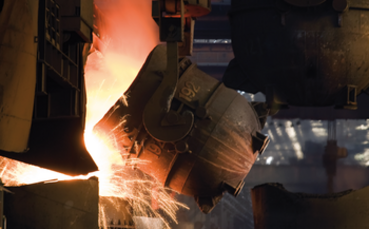 The government has today announced a new £166.5m spending plan designed to accelerate the roll out of green technologies across the UK's energy-intensive industries, predicting the latest phase of its Green Industrial Revolution will help create up to 60,000 jobs.
Unveiling the latest investment, the Department for Business, Energy, and Industrial Strategy (BEIS), said it would benefit energy-intensive businesses like Tate & Lyle, BAE Systems, and Celsa Manufacturing, helping them to cut costs and prepare for the UK's net zero transition.
The new funding programme is set to support a wide range of research and development and deployment projects, covering technologies such as carbon capture, greenhouse gas removal, and hydrogen. 
"We are determined to tackle climate change and make it win-win for both our planet and our economy," said Energy Minister Anne-Marie Trevelyan. "Today's major cash boost – targeted at our most polluting industries – will encourage the rapid development of the technologies we need to reign in our emissions and transition to a green economy, one that reduces costs for business, boosts investment and create jobs."
She added that the investment would support the Prime Minister's 10 Point Plan for the Green Industrial Revolution, which was announced last year and is designed to create up 250,000 jobs and enable both the government's levelling up and net zero agendas.
"Today we're boosting our armoury for the fight against climate change and backing innovators and businesses to create green jobs right across the United Kingdom," she said.
The new investment includes £60m to support the development of low carbon hydrogen projects in the UK, £37.5m to fund early stage greenhouse gas removal technologies, £20m to support the development of next generation Carbon Capture, Usage and Storage (CCUS) technologies, and £20m to establish a new virtual Industrial Decarbonisation Research and Innovation Centre.
A further £16.5m is to be assigned through the Industrial Energy Transformation Fund to develop new technologies and processes that help energy-intensive sectors cut their emissions, while reducing their energy bills. For example, Tate & Lyle is set to receive funding to support plans to decarbonise its London sugar refinery and cut emissions by up to 90 per cent, while Celsa Manufacturing will receive funding to install new technologies that improve energy efficiencies when melting scrap metal and producing steel.
Finally, £8m is to be awarded for innovative projects exploring ways to cut emissions from textiles, ceramics, and concrete, and £4.7m will be used to establish a new Transforming Foundation Industries Research and Innovation Hub, which is to be led by Cranfield University and will help industries like metals, glass, cement, paper and glass work together to curb emissions.
The funding boost came as the government also announced that on Wednesday the newly formed Net Zero Expert Group will meet for the first time, as it works to deliver a series of policy recommendations ahead of the COP26 Climate Summit in Glasgow in November.
The new investment is likely to be broadly welcomed by green business groups. However, opposition parties are likely to question how new the funding is given £86m of the total funding package comes from the government's previously announced £1bn Net Zero Innovation Portfolio.
Moreover, campaigners and political opponents have repeatedly argued that the government's 'green recovery' funding in support of its net zero goals continues to lag behind the multi-billion dollar low carbon investments being deployed in the US, France, and Germany as part of their post-COVID stimulus plans. As such, campaigners are continuing to call on the government to fast-track long awaited decarbonisation plans, such as the much anticipated heat and building, hydrogen, and net zero strategies.
Today's funding announcement comes on the same day as business body the CBI published a major new report titled Seize the moment: how can business transform the UK economy?, which calls on the government to prioritise decarbonisation, innovation and 'levelling up' as part of sweeping £700bn package that could revitalise the UK economy and deliver on the country's net zero goals.
>>>ad: Don't Miss TODAY'S BEST Amazon Deals!

Originally Appeared Here