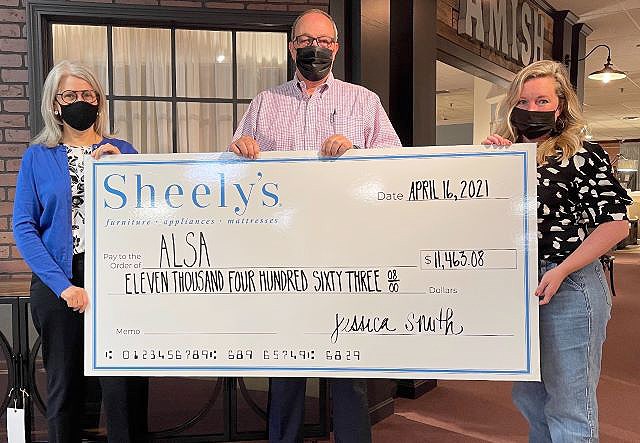 Among today's other business updates: Farmers National Banc Corp.; Panera Bread; and Youngstown/Warren Regional Chamber.
NORTH LIMA — Sheely's Furniture and Appliance recently presented the ALS Association Northern Ohio Chapter with a check for $11,463 from its first-quarter fundraising effort.
The fundraising effort took place at Sheely's North Lima and Aurora locations and encouraged participation from customers by offering $100 off qualifying purchases when a donation was made. Sheely's matched funds for every dollar received.
"At Sheely's, we pride ourselves on our 70-year history of giving back to our community," owner Jessica Smith said in a news release. "Our quarterly campaigns are a meaningful part of this effort, and we appreciate everyone that donated."
The ALS Association Northern Ohio Chapter was founded in 1988 to assist in discovering treatments and a cure for amyotrophic lateral sclerosis (ALS), and to serve, advocate for and empower people affected by ALS to live their lives to the fullest.
Farmers National Banc Corp. wins fourth consecutive award
CANFIELD — Farmers National Banc Corp., the parent company of Farmers National Bank, has received the Raymond James Community Bankers Cup for the fourth consecutive year.
Raymond James evaluates the profitability, operational efficiency and balance sheet metrics of every exchange-traded bank in America with assets between $500 million and $10 billion. Of the 241 banks nationwide that qualified, only 25 demonstrated the financial performance and
stability to be named Bankers Cup winners. Farmers rose from the 22nd spot in 2019 to the 11th spot in 2020.
"After our record breaking performance in 2020, it's an incredible achievement to be recognized for a fourth year in a row with the Community Bankers Cup from Raymond James," Kevin J. Helmick, Farmers president and CEO, said in a news release. "At Farmers, we have a culture of high performance, and our associates deliver by bringing their 'A' game each and every day for our customers, shareholders and communities."
Panera Bread locations to host hiring event
WARREN — Panera Bread is hosting a market-wide hiring event from 7 a.m. to 7 p.m. Monday at all participating locations.
Job seekers can walk in and be interviewed during the event.
Panera Bread is hiring for a variety of positions, including managers, overnight bakers, catering coordinators, shift supervisors, hourly associates and summer staff (full or part time).
Candidates may qualify for benefits, bonus opportunities, tips, flexible schedules and meal discounts.
"We are extremely fortunate to experience growth at such an unprecedented time in history, and we want to provide career opportunities for those individuals looking to get back into the workforce in a safe way that they can feel good about," Sam Covelli, owner/operator of Covelli Enterprises, the largest franchisee of Panera Bread, said in a news release.
"We truly value internal growth and promotion and can promise you the opportunity to develop a true career with our Panera family."
Individuals who are seeking employment but are unable to attend the hiring event are encouraged to apply anytime online here, or text "bread" to 242424.
Lattes & Legislators event to feature Ohio education leader
NILES — Ohio Superintendent of Public Instruction Paolo DeMaria will be the guest speaker at the Youngstown/Warren Regional Chamber's next Lattes & Legislators event from 11:30 a.m. to 1 p.m. Monday at the Trumbull County Educational Service Center, 6000 Youngstown-Warren Road.
DeMaria has spent 28 years in public service. In his current role, he supports Ohio's 3,600 public schools and 1.7 million students.
His career has included service as the senior fiscal analyst of the Ohio Senate, director of Ohio's Office of Budget and Management, chief policy advisor to former Ohio Gov. Bob Taft and executive vice-chancellor of the Ohio Department of Higher Education.
Cost of the event is $10. To register, click here.
Ohioans set single-month record in new business filings
COLUMBUS — Ohioans set a new single-month record with 19,694 new business filings in March, the Ohio Secretary of State Business Services Division reported Thursday.
The previous single-month record was 18,659 new business filings in July 2020.
"Another record shattered! I am blown away by these numbers and especially proud of my team who are working around the clock to process new business registrations and simplify filing procedures," Secretary of State Frank LaRose said in a news release. "My office also works to ensure these new businesses have the resources they need to thrive so that they can create jobs and prosperity for Ohio's families."
— Do you have a business announcement you'd like to share? Email news@mahoningmatters.com.
Originally Appeared On: https://www.mahoningmatters.com/local-news/business-updates-sheelys-donates-11k-to-als-association-northern-ohio-chapter-3658896