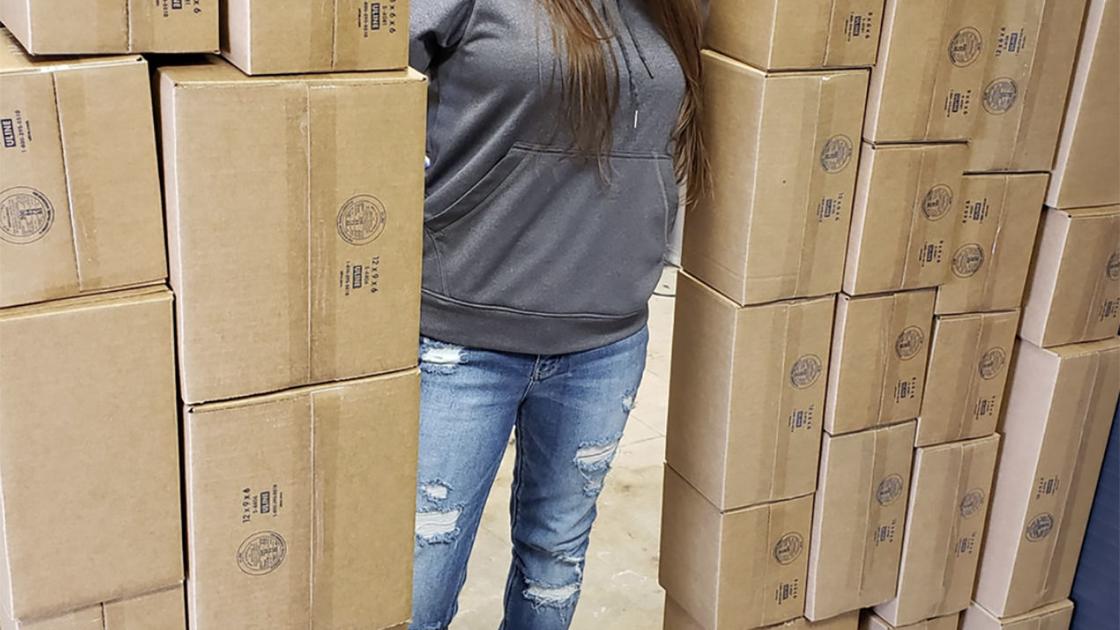 ROCKTON — "My wish is that cannabis use becomes normalized," says Michelle Kreeger.
"Cannabis being legal and accepted are two different things," responds her husband, Brandon.
Michelle and Brandon Kreeger are the owners and operators of Kiss Glass at 208 W. Main St., Rockton. Kiss Glass sells a variety of cannabis-derived products. The store sells pipes and other smoking devices, ash trays, T-shirts and more. No marijuana is sold at the store, as that would require a state approved license.
The two smile at each other often and finish each other's sentences. Childhood sweethearts, they spent many years on different paths before life finally brought them together as married partners.
Michelle has struggled with chronic pain and back issues since she was a child, and she also battles Crohn's disease.
"I had a tub of medicines and I was not doing well," Michelle says while holding her hands far apart to show how large her tub of medicines was.
At age 34 she found herself using a walker to support her own weight because of her consistent fear of falling. Michelle was in endless pain.
"I was on so many medications, lots of the meds were to counter the side effects caused by other medications. Trying to work, be a mom, and keep track of all the meds was becoming impossible. I was always in a fog. It was horrible," she said.
One day Michelle dumped the tub of medicines that only made her feel worse. She decided to go the natural route and turned to CDB and THC. She applied for a medical marijuana card and received one. Brandon researched a variety of recipes and finally created the perfect CBD recipes, giving his wife the pain relief she so desperately needed. Together the pair created the KISS CBD line. KISS stands for "keep it simple salve" and "keep it simple syrup."
"Today I am happy and healthy," says a smiling Michelle.
The couple shared their CBD salves and syrups with other friends and family suffering from chronic pain providing much needed relief for them as well.
Last March when the country went into lockdown, the couple's jobs at a local martial arts academy abruptly ended. The pair had just bought a house and were out of work. They realized they needed to get creative. On March 10, 2020, the Kreegers started a Facebook Group as a way of connecting with others and making people feel good during the lockdown. For 30 days straight they hosted and played online games with their new group. "Everybody Wins Bingo" quickly became the group favorite, hand-crafted glass pipes and bongs were the prizes—thus the "glass" in the name of their shop, Kiss Glass.
The response of their growing community was overwhelmingly positive. The couple had found a niche that suited their skills and passions. It quickly became apparent that they would need to find a retail space to open a brick-and-mortar store.
The path to opening their retail store was littered with a steep learning curve and many setbacks. Before anything else was to happen, Michelle needed to have a talk with her daughters. Despite receiving her medical marijuana card, Michelle was still a closet smoker.
She needed to come out of the closet and talk honestly with both her daughters. She felt ashamed and didn't want to continue feeling bad about using the medical-grade, natural CBD products that were finally giving her the relief she had so desperately needed. Michelle spoke with her daughters, educating them about her medical marijuana use and let them know their mom was not doing anything illegal or wrong.
On their daily trips to the Rockton post office to mail orders, the Kreegers passed a vacant run-down laundromat. One day the couple stopped and peered into the broken windows.
"This is it, we can open our shop here," Brandon said to Michelle.
The couple contacted the landlord. With a lease in hand, they quickly began plans to remodel the former laundry mat to suit the needs of their new shop. Not long after signing the lease Michelle's brother, Michael Althafer, passed away leaving the couple devastated by his loss. Initially, construction on the new store was to begin on July 1. Tragically the family held Michael's funeral that day instead.
"Michael's death was a huge setback," Michelle recalled. "Not only were we close, but he owned a construction company and an alternative medicine CDB business he was in the process of launching. We had plans of working together in the industry. His products were supposed to be on our shelves, and we were supposed to be working together. He was my biggest fan and would often buy 10 tickets at a time for our games. I look around my shop and my eyes well up often because he never got to see it finished."
When Kiss Glass finally opened in November of 2020, the couple announced it would give out 200 free glass pipes to anybody over 21 who brought in a receipt from another store or business establishment in Rockton. On their first Black Friday a long line was waiting to get into their store; something that had never been seen in Rockton before.
Their Facebook Page is a playful, supportive community for those over 21. The couple believes strongly in helping others and giving back to their community. It works. Customers of Kiss Glass shower the couple with gratitude, they are so overwhelmed by the relief from pain, insomnia, chronic illnesses, and the mess left behind by chemotherapy that traditional medicines were unable to help with.
One year later Kiss Glass has shipped non-CDB products to 49 states.
"We just need to get someone from Hawaii to buy some of our stuff, then we'll have customers in all 50 states," says Michelle. "We have 8,500 current members."
CBD is the non-intoxicating compound found in cannabis and has many, many proven medical benefits. The use of hemp-derived CBD oil products with less than 0.3% THC levels are legal in all 50 states. CBD products derived from marijuana are illegal in Wisconsin. Laws vary widely from state to state and change often, according to the CBD in Wisconsin 2021 Compliance Guide at https://ilcbd.com/cbd-in-wisconsin-guide.
In February 2021, Governor Tony Evers unveiled his comprehensive marijuana legalization plans in the new Wisconsin 2021-23 state budget. His plan calls for legalizing both medical and recreational marijuana in the state.
Originally Appeared On: https://www.beloitdailynews.com/news/business-news/kiss-glass-owners-hope-to-bring-relief/article_2da62f0c-c859-568c-871d-bc62347fc8db.html