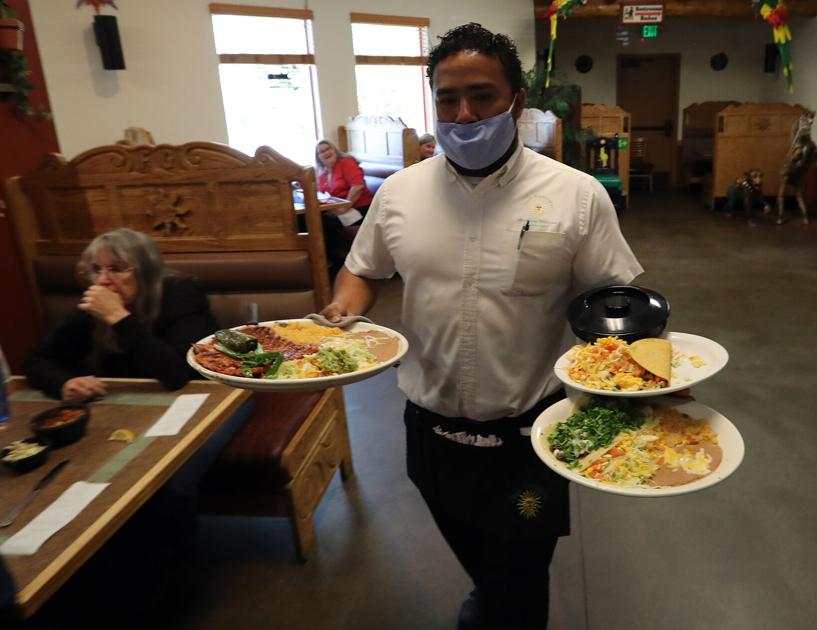 Restaurants are filling up again, parking lots are full outside hardware stores and new cars are hitting the streets as the Grand Junction economy continues to see a strong recovery from the pandemic lows.
The latest indication that the local economy is bouncing back vigorously is from the city of Grand Junction's April sales tax report, which showed sales and use tax bringing in $1.2 million more than in the same period in 2019 — a increase of around 25%. The report covers sales that were made in March and taxes paid to the city last month.
"It's really representative of the business environment in our community," City Manager Greg Caton said. "Although we're pleased that this helps and aligns with what's projected for our budget, this is great news for our economy and for our businesses here in Grand Junction."
Grand Junction Finance Director Jodi Welch said construction, automotive sales and general retail, including big box stores, led the way with large increases over 2019 sales tax collections. However, even restaurants, which struggled during the pandemic, saw a 15% increase in sales tax over 2019.
"I think they're enjoying the comeback of being able to go out and have dinner or go out and socialize with the people who are important to us in our lives," Welch said. "That's an important industry in this community and they're starting to be able to recover."
Fiesta Guadalajara owner Alex Sanchez said his restaurant has felt close to normal for the past two to three months in terms of sales and the number of customers.
"The feeling for my employees and my customers is really good," Sanchez said. "I mean, we feel like it's back to normal, like it was a bad dream. Now it's a lot better."
Employees are continuing to wear masks, but capacity is getting close to what it was pre-pandemic, Sanchez said. He said they have been glad to welcome back customers who have not been comfortable dining out until recently.
"We're just happy to see our customers because we do have a lot of elderly customers that are coming more often," Sanchez said. "They're telling us that we're the first restaurant that they've visited. That makes me feel good that we're the first restaurant they've visited after the pandemic. It's a good thing."
While some restaurants have closed since the start of the COVID-19 pandemic last spring, Caton said he has seen new restaurants start to open. He said those new businesses may have contributed to the increased tax revenue. Businesses outside the community are taking notice of the strong economy as well, Caton said.
"What also makes me extremely excited about these numbers is this lends itself to business expansion and also new businesses coming into our community," Caton said. "Outside businesses pay very close attention to how businesses are doing within our community. If they're doing well then we're on their radar screen."
FASTER RECOVERY
Compared to the financial crisis of 2008 and the resulting recession, the recovery from the COVID-19 downturn is coming much quicker, Welch said.
It took a full decade for the city to return to the revenues it had before the 2008 recession, Welch said. This recovery, if the trend continues, will have the city better than ever from a sales tax perspective the next year after the pandemic started.
"From 2009 and 2010 our recovery was extremely slow and painful," Welch said. "We even had some dips after that. We literally, pre-pandemic, we just went back dollar for dollar to the revenues we had in 2008."
Both Welch and Caton credited work done to diversify the city's economy for contributing to the quick recovery.
"This is completely a different recovery and I think it's because of those years of work, and it's been numerous years of work, in diversifying the economy," Welch said. "Really in the last five to six years laying the foundation for this take off. I think it's just going to continue in the community based on everything we're seeing."
CITY MONEY
The strong April sales and use tax revenue is well beyond what the city projected in its budget estimate.
The city currently collected about $2 million or 10% more than it had budgeted for year-to-date. The continued excess revenue could come into play during the 2022 budgeting process and go toward one-time capital expenses.
"It affirms that we are able to continue to move forward with the 2021 plan, as adopted by City Council," Caton said. "If it stays on this path, what it will do is generate at the end of the year revenues over expenditures, which can therefore be used for one time strategic investments and contributions towards projects."
>>>ad: Don't Miss TODAY'S BEST Amazon Deals!

Originally Appeared Here