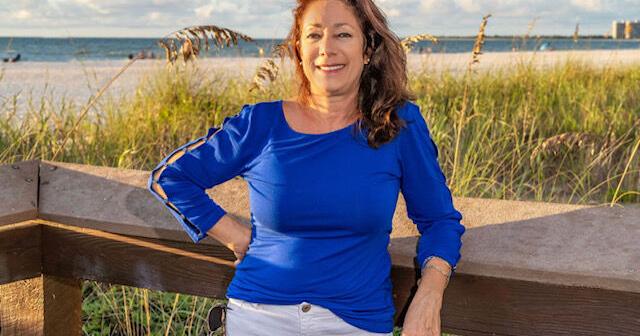 Real estate has been a lifelong interest for Beth Murphy, the newest member of The Lambros Group of Keller Williams Realty's Marco Island office.
A Marco Island resident with more than 30 years in the real estate business on the island, Murphy is the licensed executive assistant for The Lambros Group. In that role Murphy serves as the team's transaction coordinator and also enjoys working with customers as an agent.
Beth Murphy

Submitted Photos


"Once one of our Team Members gets a new listing or puts a property under contract, Beth handles it from start to finish," explained Kristina Lambros, lead agent for the Lambros Group. "She works on the back-end matters that take a file to closing. She's the one that works with the title company, connects the buyers with insurance companies, service people, lenders, etc. If there are any hiccups along the way, Beth is the one that pulls it all together and does whatever is needed in order to get the job done."
Much of Murphy's experience in the business has taken place on Marco, where she's lived for three decades.
"Having been here for so many years, I feel like it's in my blood," said Murphy. "My mom and dad bought and sold real estate and invested for many, many years when I was a kid. So, I kind of have always pretty much followed in their footsteps and have dabbled in real estate investment myself."
She possesses a multifaceted background in the business, which became not just a passion, but her profession, after college. Raised in Rockland County, a suburb of New York City, Murphy earned a Bachelor of Arts degree in criminal justice from New Jersey's Stockton University. Immediately after graduation, she became a licensed real estate agent in that state. 
Murphy kicked off her career as a buyer's agent, while also working for a real estate attorney. Those jobs provided invaluable experience in both the sales and transaction coordination side of the business.
After her parents, Marvin and Harriet Moskowitz, moved to Marco in 1984, Beth followed, settling here in 1991 and becoming the manager of a local real estate office. While there, she assisted builders with new construction projects. Murphy then became a closing agent, before moving on to operate a boutique, Marco Island title company, eventually purchased by Marco-based real estate attorney Craig Woodward, owner of First Title and Abstract, Inc.
During her 11 years there, Murphy facilitated thousands of transactions, transforming First Title and Abstract, Inc. into a Marco Island powerhouse. She brings the high-level expertise and stellar customer service acumen she's acquired over the years to The Lambros Group.
Murphy cited several reasons for joining The Lambros Group, chief among them Kristina Lambros herself.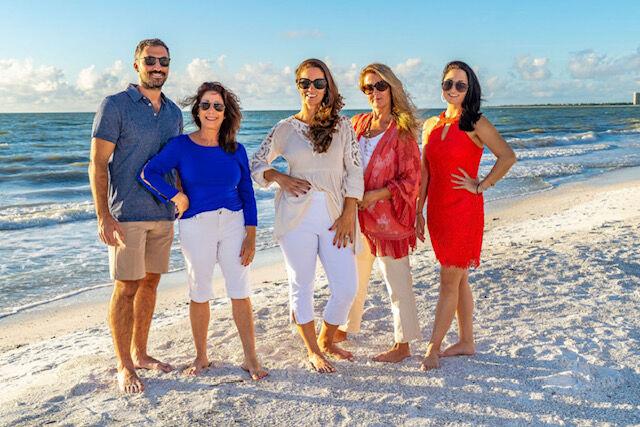 Kyriacos "Nick" Lambros, Beth Murphy, Kristina Lambros, Tammie Lambros, & Gabriella Lambros.
"She and I met and just clicked eight years ago," recalled Murphy. "She became family and that's all she wrote." 
Lambros said their friendship, as well as Murphy's impressive skill set and local connections, make her an invaluable addition.
"My team is comprised of my family members, so for me to add someone, it indicates a major level of trust," she added. "Prior to joining the team, she was the title agent I sent a lot of business to and recommended to my customers. So, to be able to have someone with her background in, and knowledge of, the real estate industry join the team is a big asset and win."
Murphy describes herself as a workaholic, but in her case it's not a negative; she loves the profession as well as life on Marco. 
"Ever since I moved here 30 years ago, it's been a working vacation," she said. "We live in Paradise. Coming over the bridge, that feeling has not changed, even after 30 years."
When not working, Murphy loves exercising and spending time with family and friends, including her long-time, life partner John. Her daughter, Jillian, and son-in-law, Travis Delk, live in the Orlando area with their sons, J.T., four and a half and Logan, one and a half. She also enjoys cooking, especially new dishes. 
"Italian, American, give a recipe and I'll cook it," said Murphy. "I love to play with new recipes." 
>>>ad: Don't Miss TODAY'S BEST Amazon Deals!

Originally Appeared Here