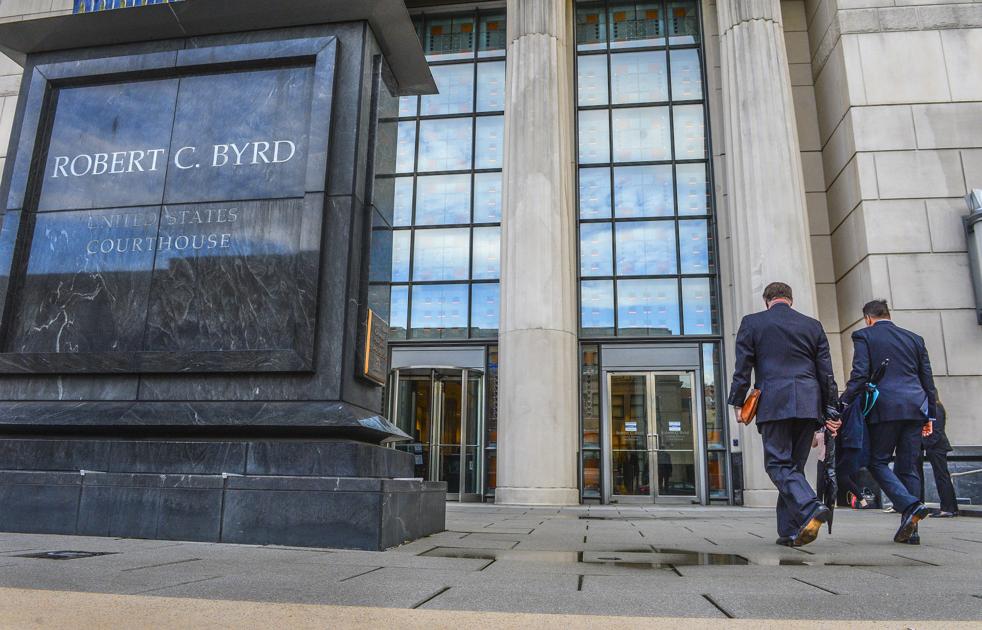 While defendants at a Charleston opioid trial Friday showed an email in which a Huntington doctor said, "We have created a monster," referring to loose opioid prescribing, the plaintiffs countered with a Cardinal Health salesman they said ignored red flags at a West Huntington pharmacy.
The trial surrounds Huntington and Cabell County's allegations that AmerisourceBergen Drug Corp., Cardinal Health and McKesson, known collectively as the "Big Three," helped to fuel the opioid crisis by sending 127.9 million opiate doses into the county from 2006-14, before a reduction in the pills shipped made users turn to illicit drugs.
The defendants blame the lack of communication with the U.S. Drug Enforcement Administration, their regulator, a high volume of prescriptions made by doctors and poor health among West Virginians for the uptick in pills shipped to the state.
Friday's testimony opened with Dr. Joseph Werthammer, a pediatric neonatologist at Cabell Huntington Hospital, who discussed neonatal abstinence syndrome (NAS), a condition found in newborns as a result of the sudden discontinuation of the baby's in utero exposure to substances used by its mother.
Babies born with neonatal abstinence syndrome can suffer tremors, seizures, overactive reflexes and tight muscle tone. This results in fussiness, excessive crying, and poor feeding and slow weight gain. It can have long-term effects, and the babies need specialized care and environments to help them heal.
A 2016 report from the U.S. Centers for Disease Control and Prevention said there was a 300% increase in the United States between 2000 and 2012 of babies born with neonatal abstinence syndrome. In 2016, nearly 5% of babies born in West Virginia were born drug-dependent. Out of every 1,000 live births in the state, 49.9 were born with neonatal abstinence syndrome. In 2014, it was 32.1, and in 2015, 34.4.
Werthammer said that, in 2010, Cabell Huntington Hospital had about 50 to 60 patients, but by 2015 it was 250 a year. He estimated that about 2,500 children who were born with neonatal abstinence syndrome live in Cabell County.
A defense attorney said half the babies Werthammer referenced don't reach the threshold of needing medication to help with the symptoms.
"The other half do," Werthammer responded.
Neonatal abstinence syndrome can be caused by at least 15 drugs, some prescription, a defense attorney said. Werthammer said that, nationally and locally, about 85% of cases involve opiates, but Cabell faces a problem now of babies being born with multiple drugs in their system.
The opioid pills the distributors sent were for prescriptions that doctors prescribed, another defense attorney said, in an attempt to show the doctors were at fault.
In a 2017 email chain between Werthammer and others, he wrote, "Unfortunately it was not big pharma who wrote prescriptions; it was me and my colleagues."
In another email chain, he shared a 2017 article that referenced how quickly a person can become addicted. Werthammer replied to someone's response to the new information: "We have created a monster."
While defendants said that showed the doctors had guilt in the opioid epidemic, plaintiffs called to the stand a former Cardinal Health sales representative who oversaw The Medicine Shoppe, at 2402 Adams Ave., which saw a sharp increase in opioid dispensing after the closure of SafeScript Pharmacy.
SafeScript, a customer of AmerisourceBergen, was closed in spring 2012 after its owner was arrested when he was found in a truck with a woman, possible drug ledger and other items that would indicate illegal drug diversion was occurring. DEA drug database information said the Huntington pharmacy had averaged 35,551 oxycodone dosage units a month from 2006 until its closure.
One distributor's misfortune was another's fortune, the plaintiffs argue, because SafeScript's customers did not stop using opioids — they just moved to The Medicine Shoppe, a Cardinal Health customer.
DEA data showed The Medicine Shoppe received an average of 18,600 dose units of opioids per month from 2006-14, 3.9 million pills, about 3.7 times the national average and more than 2.5 times the state average.
When asked if he was aware that The Medicine Shoppe had received nearly 3.7 million oxycodone pills from Cardinal Health from 2006-14, Jesse Kave, a Cardinal Health salesman, said he did not know.
Kave said that, while he had access to see what a business was purchasing through trend reports, it wasn't something he checked often, nor was it part of his job.
Cabell County attorney Mike Fuller pointed to Kave's 2020 deposition in which he said The Medicine Shoppe had a "ton" of suspicious orders. Kave said he did not remember saying that.
Fuller showed a 2011 email in which Kave told his bosses that doctors were shifting their prescription standards from OxyContin to oxymorphone. Fuller then turned to a July 2012 investigation report into the pharmacy, which was conducted after an influx of opioids because of the closing of SafeScript.
A pharmacist in charge of The Medicine Shoppe said doctors had been prescribing a high rate of Oxy 15s and 30s, high doses of opioids, for pain management. In fact, 71% of its dispensed oxycodone had been 15s and 30s, which showed a disproportionate growth.
Fuller said a high rate of prescriptions for a drug known to be abused should have been a red flag when Kave said prescriptions for the drug had been going down.
Scott Lemley, current director of innovations for Huntington who previously worked as the criminal intelligence analyst for the police department and the Mayor's Office of Drug Control Policy, predicted the crisis Huntington was about to face because of pharmacies like SafeScript and The Medicine Shoppe, plaintiff attorneys said.
The Huntington Police Department's 2011 annual report, which Lemley oversaw, said the most prevalent emerging threat to the community was the illegal diversion of powerful pain medications, such as oxycodone and oxymorphone.
The start of the crisis could be seen in the K-9 unit's seizures from 2012-13. In 2012, the unit seized 699 grams of heroin; in 2013, it jumped to 1,865 grams. Prescription pill seizures jumped from 3,300 dosage units to 11,000.
He testified Friday that they saw increases in prescription opioid abuse, but it was overtaken by heroin around 2014.
During his work with the Mayor's Office of Drug Control Policy, Lemley said the team went to the community and used his data analysis to build relationships with residents. Through this, he said, they got a better understanding of the problem.
Drug incidents in 2004 were very confined, he said, but by 2014-16, they had permeated the entire community. He also collected opioid overdose data, which showed opioid abuse did not discriminate by race, age or gender. Everyone was affected.
"It exploded," he said. "We realized we couldn't arrest our way out of this."
He said they went to state delegates, the Cabell-Huntington Health Department and other organizations to build programs, like the harm reduction program or the dispensing of naloxone, to help those in need.
Huntington attorney Temitope Leyimu referenced a strategic plan released by the ODCP that noted thousands of hours of interaction between law enforcement officers, health care professionals, social service administration, educators and more to help fight the crisis.
Steve Ruby, an attorney for Cardinal Health, said illegal drug dealers working out of an open-area drug market in the Fairfield West neighborhood is from where Huntington's drug problem stems.
The root of the problem predated that, he said. Huntington's downfall started in the 1980s, when many of the manufacturing plants started downsizing and closing. By 2000, most of the high-paying manufacturing plants were gone, a report penned by Lemley said.
The loss in revenue resulted in a cutback of city services, such as the police focus and drug unit, and left the city in a vulnerable position, Lemley had written, and drug dealers took notice.
The tipping point was when four teenagers were killed in 2005 near Charleston Avenue in Huntington. From this point, the city of Huntington no longer could ignore there was a drug and violent crime problem.
Ruby said that nowhere in the report did it blame distributors.
The defense said Lemley's data did not track what type of drug the overdoses had been caused by and that there's no way to say how many came from prescription opioids legally. They also said it was comprised of several sources throughout Huntington, which could cause more error in the final result.