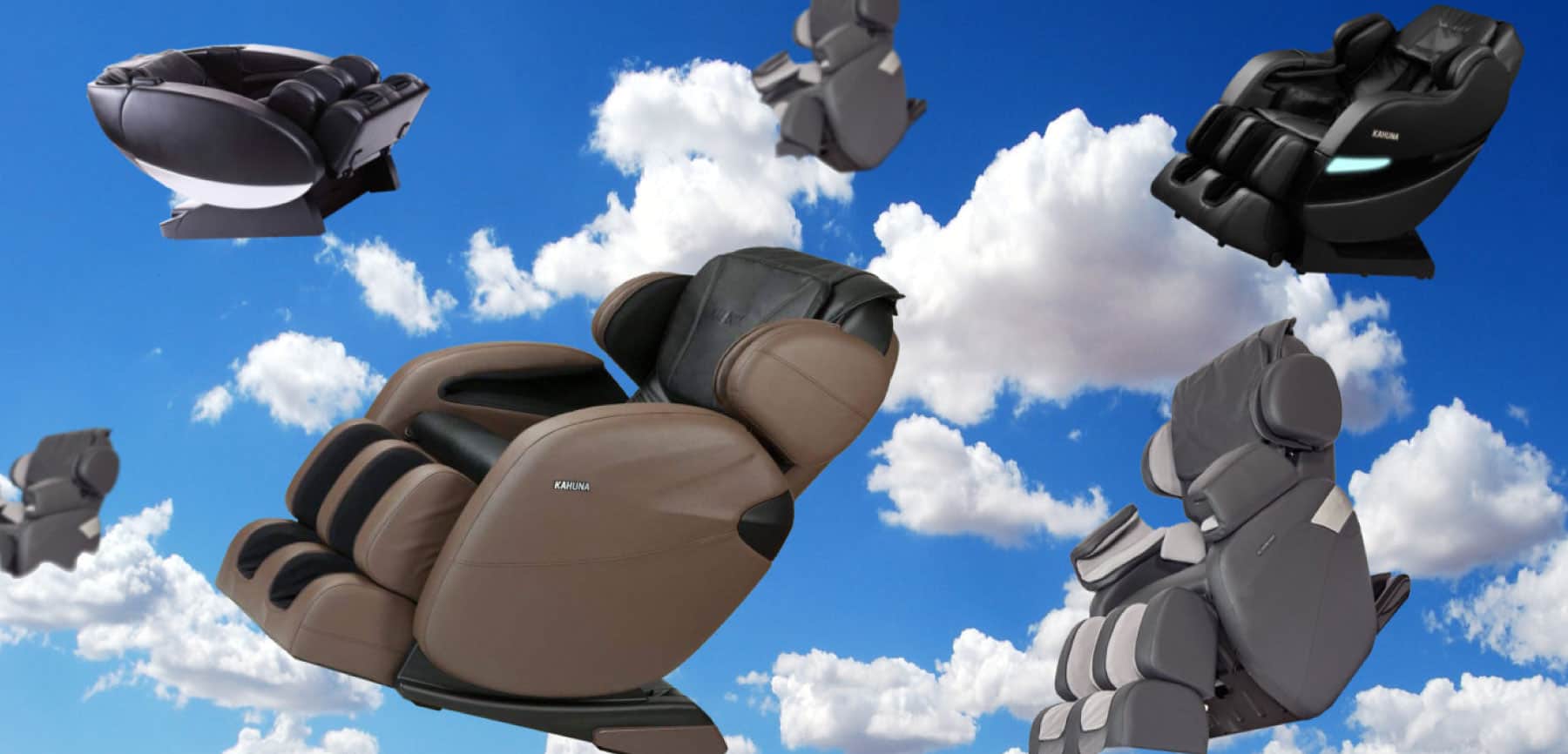 We recommend products based on unbiased research from our editorial team. We may receive compensation if you click on a link. Read More.
When you invest in a massage chair, it's like having your own personal masseuse available 24/7 in the comfort of your own home.
But a massage chair isn't just a machine that helps you feel better. It's a tool that has major long-term health benefits if used regularly. And while the upfront cost is often steep, a massage chair is still cheaper than frequent visits to the spa. But this isn't a luxury item. Especially if you suffer from chronic back pain, headaches, insomnia, or hypertension, a massage chair can be an important step toward recovery and lasting relief.
It's no secret that modern life is sedentary. We spend several hours a day sitting on our butts. We sit to learn, play, relax, and work. Research shows the long-term health risks of a sedentary lifestyle. You've probably heard of them: eye-strain, bad posture, heart disease, etc.
How ironic, then, that a solution should arrive in the form of a chair? The massage chair counteracts many of the bad habits cultivated by modern life. It corrects bad posture, realigns the spine, and improves the mood. But that's just scratching the surface.
While massages benefit all of us in similar ways—by easing aches and pains and promoting relaxation and general wellness—no two individuals have precisely the same needs and preferences. The very best massage chairs on the market offer a personalized massage experience so that you can have the perfect in-home massage for your needs—even if those needs change over time.
There's no need to squeeze a formal appointment into your busy schedule, drive to the spa, or wait around for your massage therapist to be ready for you. Just sit back and relax (literally), any time of the day.
This list includes a varied selection of the best massage chairs with top scores in quality, comfort, and style. Whether you're a desk worker with chronic back pain or an athlete who needs to care for their muscles, there's something here for you.
For a long time, massage chairs have belonged in the same category as hot tubs: expensive, big, unnecessary, and probably not something you'll use more than a half-dozen times before getting rid of it. But the massage chair is not just a luxury item. It is a therapeutic innovation with multiple long-lasting health benefits.
The bottom line is: You deserve a massage chair. In fact, you may need one. If you suffer from chronic back pain, headaches, hypertension, decreased libido, and various other troubles, a massage chair could be a major step toward recovery and lasting relief.
Realizing that you deserve a massage chair is the easy part. Figuring out which massage chair is right for you is, unfortunately, anything but relaxing. But we are here to reduce your stress. Instead of spending hours combing through thousands of product listings and comparing the features, prices, and customer reviews to narrow down your search for the perfect massage chair, we skip to the good part.
RAVE Reviews has identified the best massage chairs on the market, across all price points, to make your decision easier.
Read on and find the massage chair that will change your life. But first, let's look at why you would choose to buy one.
The Health Benefits of Massage Chairs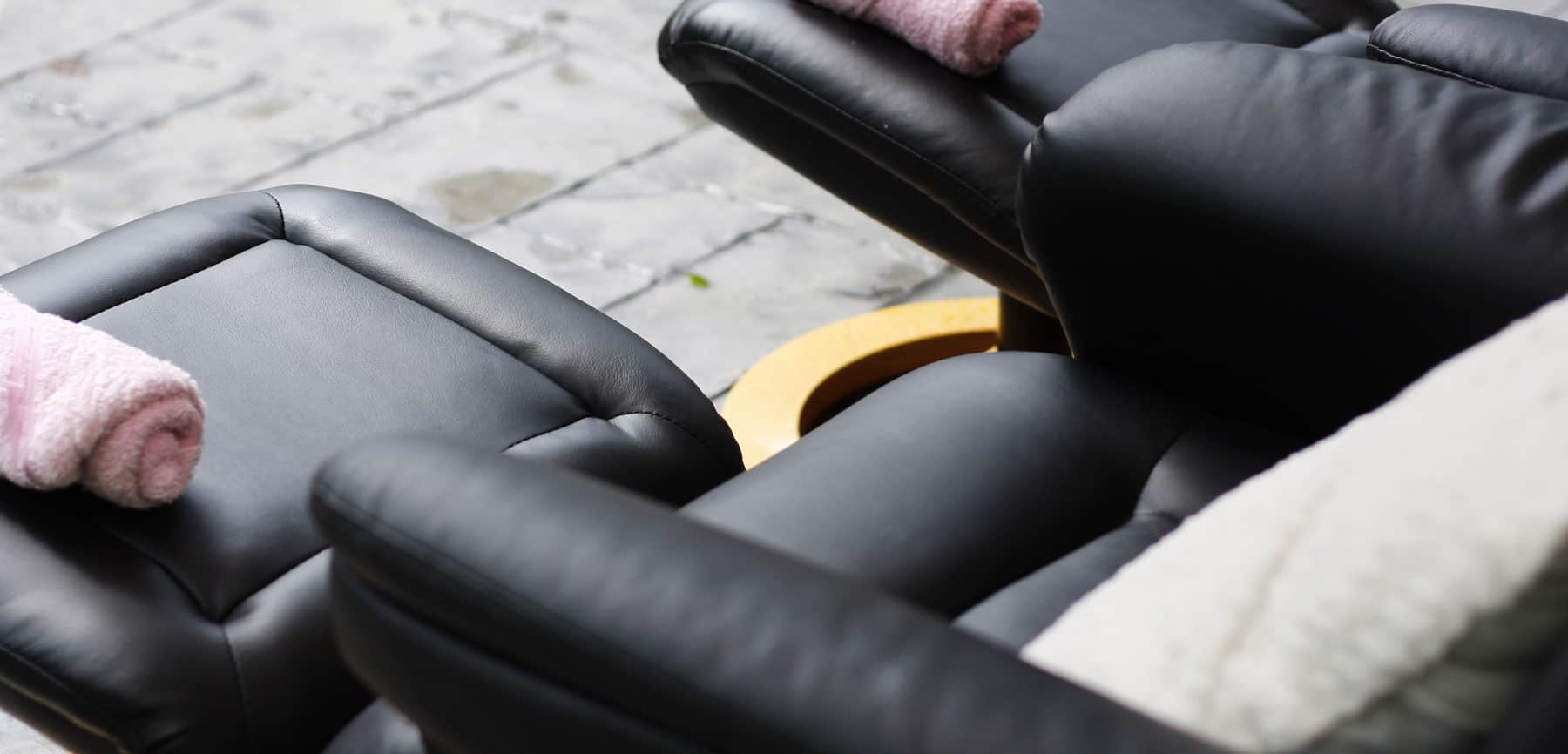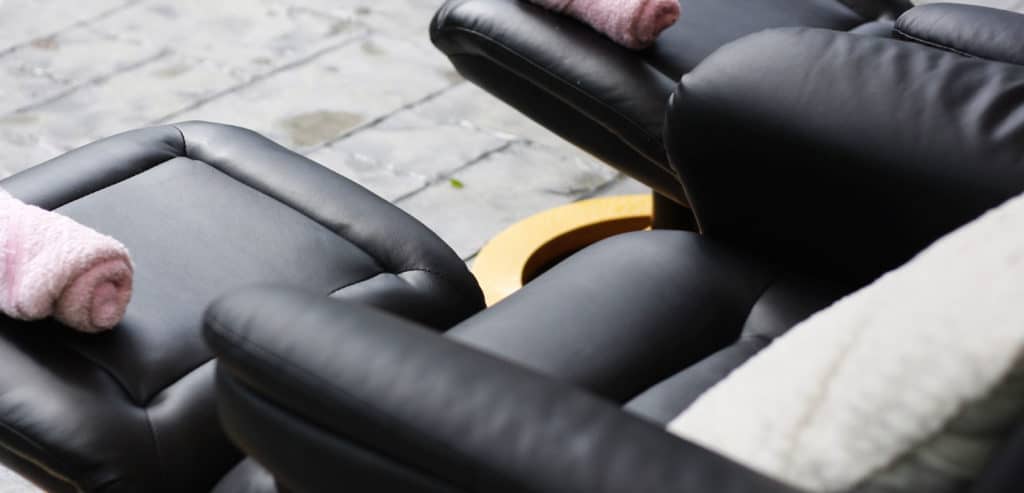 There is a long list of health benefits that come with owning a massage chair. However, these only occur after extended periods of regular use. We're talking at least one or two sessions a week, for 15-30 minutes each. Of course, you can always do more than this—it wouldn't do any harm. But if your use is erratic, the relief will be temporary. For lasting benefits, get a regimen going.
Reduce Stress and Anxiety
As you settle into your massage chair and start to feel the kneading and tapping, a number of things are happening. Yoru heart rate slows, blood pressure lowers, and on the psychological level, cortisol and insulin levels subside—washed away by a rising pool of serotonin and dopamine. These last two chemicals relieve the body of all types of stress (chronic, habitual, acute, short-term). No matter how bad (or good) your day, a session in the chair can ease any tension. In the long term, this can help prevent a large number of illnesses, including heart disease.
In the short term, it can help prevent muscle-related injuries (tears, sprains, etc.). Massage therapy has been shown to improve flexibility and range of motion, which dramatically reduces the risk of tripping, losing balance, dropping items, or causing accidents.
 Increase Mental Alertness
A study on adults conducted by the Touch Research Institute found that a mere 15 minutes in a massage chair enhances EEG brain activity. Test subjects also performed more quickly and more accurately on math tests after the massage than those who did not get a massage. So if you're having trouble focusing that day, maybe a 15-minute "power" massage is just what you need!
As years of research show, the two biggest contributors to heart disease are stress and high blood pressure. By systematically reducing these with regular sessions in a massage chair, you could potentially add years to your life. In fact, a massage chair can treat the most severe cases of stress. A recent study shows it could significantly reduce the blood pressure and heart rate of hypertensive women.
Massages generate endorphins. These are natural chemicals that improve your mood. If you're having a bad day, maybe instead of eating a tub of ice cream or punching a hole in the wall, let a massage chair knead away the bad vibes.
Manage Your Lower Back Pain
Obviously, all types of muscle pain are bad, and a massage chair can treat most of them. But the massage chair really shines in the lumbar area. And in a world where millions of people are spending hours a day sitting in front of screens, one in 10 people will experience lower back pain. It will become a chronic condition for many of them. According to the American Chiropractic Association, back pain is the single leading cause of disability worldwide.
But if you're one of them, fear not. A recent study discovered that regular massages can provide lasting relief for chronic lower back pain.
Reduce the Frequency of Headaches
Headaches are among the most common afflictions in the modern age. But popping an ibuprofen is seldom a lasting cure. Most headaches are caused by eye strain and poor posture, which add stress to the muscles in the face, neck, and shoulders. Massage will improve the flow of blood and help those muscles relax. A study published in the International Journal of Neuroscience found that massage increased raised serotonin levels and gave subjects several headache-free days
Massages are known to increase the activity of the body's white blood cells. These cells fight viruses and bacteria, which makes them major players in the body's immune system. As they say, a session in the massage chair keeps the doctor out of your hair!
Sleep More Deeply and Wake Up More Energetic
Particularly before bed, a session in the massage chair can help the body relax. As serotonin levels rise, the body can convert these into melatonin, a so-called "sleep hormone." If you lie awake in bed for hours after tucking in or wake up multiple times in the night, perhaps the time has come to invest in a massage chair.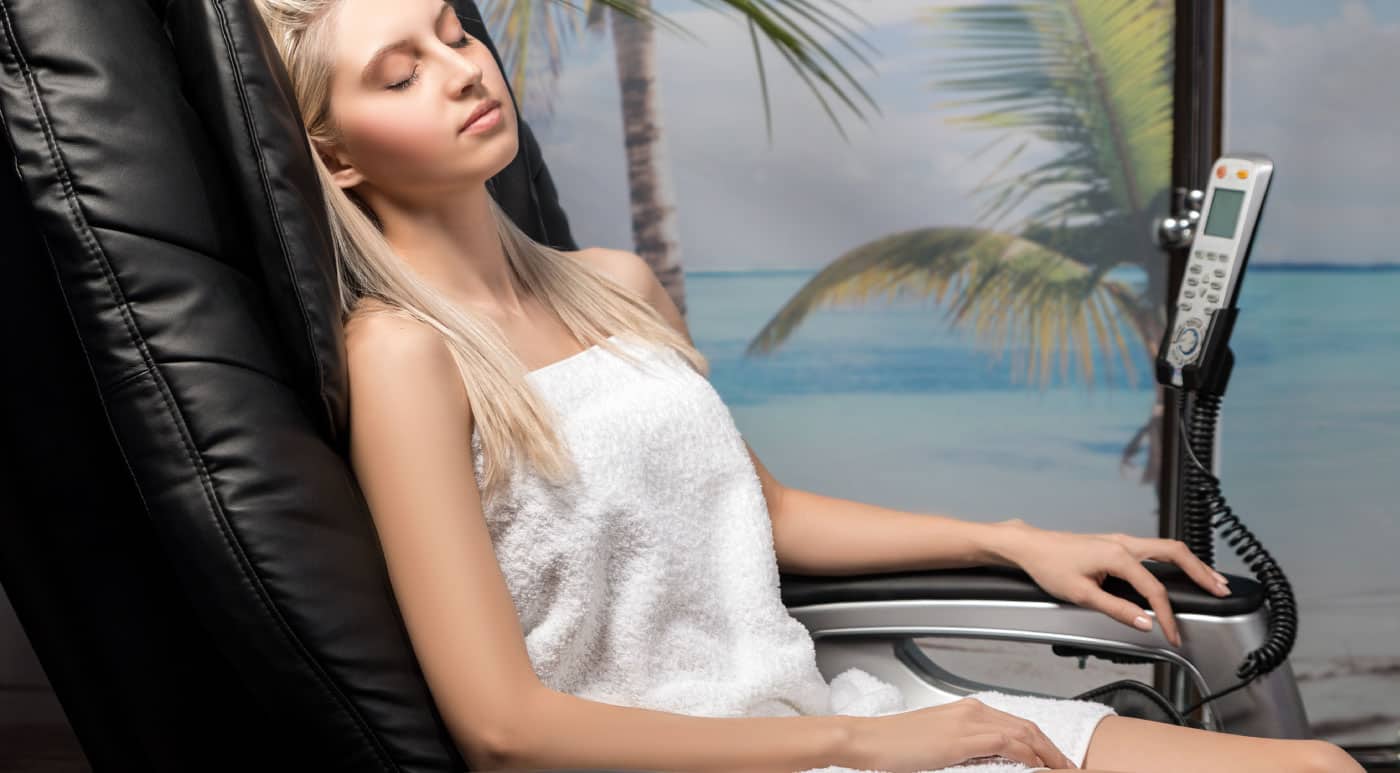 Methodology
How did we find the best massage chairs out there? The results of these reviews came from cross-referencing product tests (by both companies and individuals), applying critical analytics to hundreds of customer experiences, researching the policies, principles, credentials, and methodologies of manufacturers, and also citing therapy authorities on particular brands. In short, we put ourselves in your position and did the research for you.
Below are the criteria we prioritized to compile this list:
Price. Does the quality of the chair reflect (or exceed) its value?
Style. The massage chair is a piece of furniture. It can't be all function! Is the chair aesthetically pleasing?
Massage techniques. What techniques does the chair feature? Knocking? Kneading? Shiatsu? The more techniques, the more we will rave.
Therapeutic features. In addition to a panoply of techniques, does the chair allow for a zero-gravity position? Custom massage sessions? Body-scan technology?
Bonus features. A high-quality chair should make the effort to give you a great experience. Is it Bluetooth-compatible? Can it play music?
Company policies. Does the company offer a warranty? If so, how long is it? Is shipping free? What about returns?
Positive reviews. Once we get past the marketing jargon, how are the actual experiences of buyers? Are they positive?
The Best Massage Chairs
1
Forever Rest FR-6KSL Massage Chair, Full Body Shiatsu L-Track Rolling System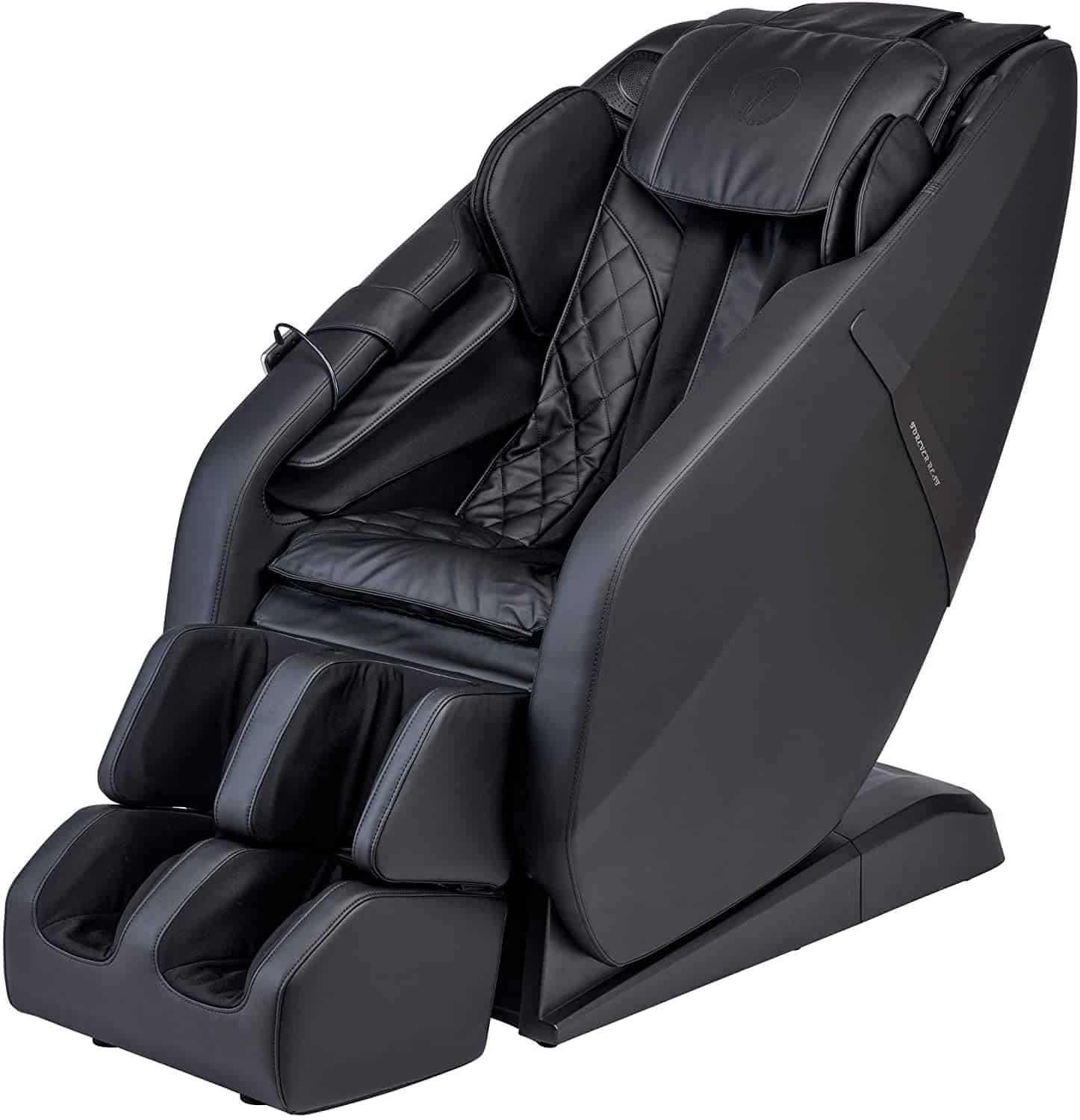 For one of the most complete massage chairs on the market, Forever Rest offers a full-body reclining chair that will start at your neck and work itself down your shoulders, back, waist, and finally your hips. The FR-6KSL Massage Chair is great for all body types and sizes. It has forward sliding technology when it reclines; therefore, it can be placed within 2 inches from the wall. 
The Smart 3D Body Detect Scan feature allows you to choose from eight auto programs, or you can choose to customize your massage as you select the speed, width, and area of your body that is giving you the most trouble. With one touch of a button, your chair can put you into a zero-gravity position. Do you need heat for your lower back? This chair has it! 
In addition, the Forever Rest FR-6KSL Massage Chair has an acupressure full-body airbag massage system for the arms, hands, shoulders, legs, and feet. It also pampers your tired feet as the built-in mechanical rollers with Shiatsu Scrape Massage rollers give just the right foot massage while you listen to music through the Bluetooth Speakers.
Pros
Massage covers the entire body
Easy to set up
Very affordable
Cons
Acupressure feature can be too intense for some
Delivery is curbside only (does not include set-up)
2
Oways Ugears B-L1 Zero Gravity Massage Chair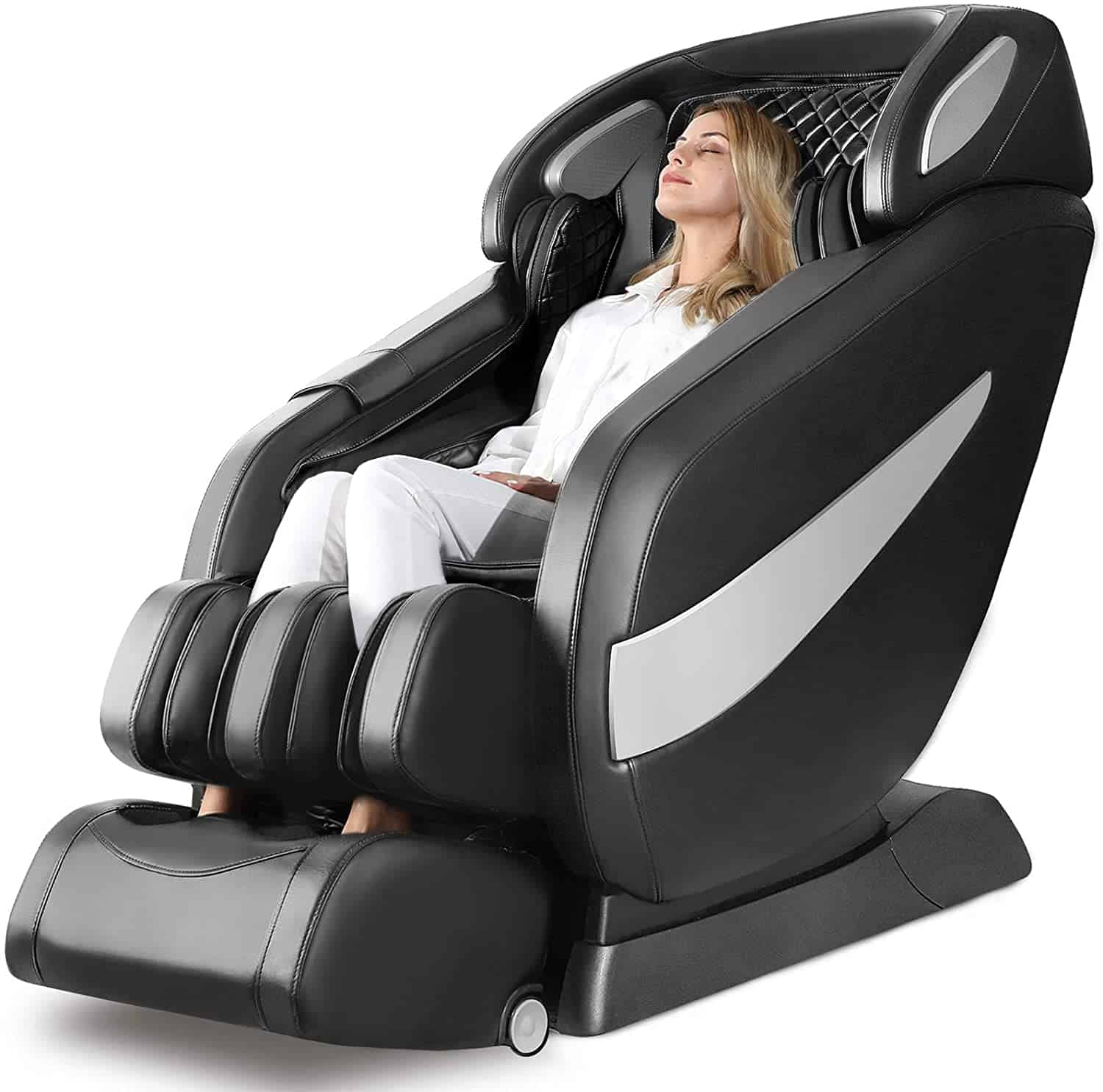 Oways offers this beautiful Ugears B-L1 zero gravity massage chair for your relaxing pleasure. There are many reasons to consider this chair; however, perhaps one of the best is the reasonable price point. If you are battling fatigue, this chair will eliminate stress-related discomfort, as well as clear your mental exhaustion. 
The 3D massage technology features an awesome Smart Body Scan and Full Body Air Massage which is focused on the arms, shoulders, legs, hips, and feet; all in a continuous looping motion mimicking an actual Thai-style massage therapist's treatment. The Ugears B-L1 boasts a waist-focused heater of up to 114 degrees Fahrenheit.
Oways space-saving design will allow you to put your massage chair within 2 inches from the wall. Its weight limit is 330 pounds with an internal chair width of 21 inches. Want to relax while listening to your favorite music? This chair features easy-to-use Bluetooth connectivity. The surround sound feature will have you chilling in no time.
Pros
Comes with a 12 Month Guarantee
Well packaged
SL Track provides deeper neck and lower back massages
Cons
Owner's Manual not clear about all functions
Some settings are too intense
Instantly goes into an auto mode when turned on… instead of letting you choose your preferences first
3
Best Choice Products Faux Leather Electric Massage Chair
If affordability is your main focus, this ottoman chair could be the perfect choice for your massage needs and your wallet. At just over $200, this well-received chair will fit any budget.
You won't find fancy features like zero-gravity positioning and full-body airbags here. Like the #8-ranked Real Relax chair, this massage chair has a fixed frame, but unlike it, there are no moving rollers for a kneading or Shiatsu back massage. Users report that the chair only vibrates.
That said, the chair uses its limited functionality well, massaging from the upper back down to the calves. This Best Choice Products chair comes 5 automatic massage programs that combine heat therapy and vibration and allow users to choose from 9 levels of intensity. This affordable massage chair might not provide therapeutic pain relief, but it's a perfect option if you're looking for a little relaxation without breaking the bank.
Pros
Affordable budget massage chair
9 levels of adjustable intensity
Built-in heat therapy
Cons
Vibrate/pulsing massage only
Separate ottoman design
Not durable for long-term use
4
Top Performance Kahuna Superior Massage Chair SM-7300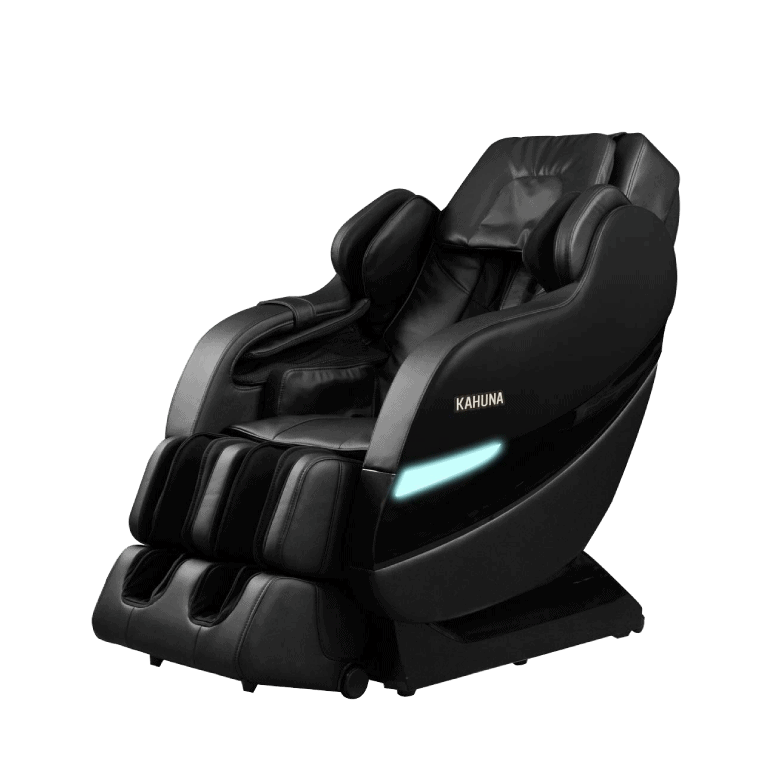 So you're on the taller side. Ever had a hard time finding a massage chair that can cover every inch of your body? The SM-7300 is the "Big Kahuna" you've been looking for. This is the first (and as far as we know, the only) massage chair marketed to big and tall people. Specifically, it is ideal for individuals up to 6'5" tall and 320 pounds.
The Kahuna SM-7300 is a full-body SL-track recliner that incorporates six rollers, plus 32 airbags with five levels of intensity, into a blissful and customizable massage. In addition to the five manual massage modes offered by this and other Kahuna chairs, the SM-7300 includes five automatic programs: yoga stretching, relaxation, fast recovery, athlete, and pain relief.
The space-saving design allows for use even in tight quarters, requiring just 3" of space to recline. Of course, it will take up even more space when in the zero-gravity position. It includes body-scanning technology and five massage techniques (kneading, tapping, tapping, knocking, and shiatsu). 
Pros
Four auto zero-gravity massages
Larger height and weight limits
Six rollers + 32 airbags
Cons
Somewhat higher price point
Unintuitive remote design
Can't save customized settings
5
Osaki OS-Monarch Massage Chair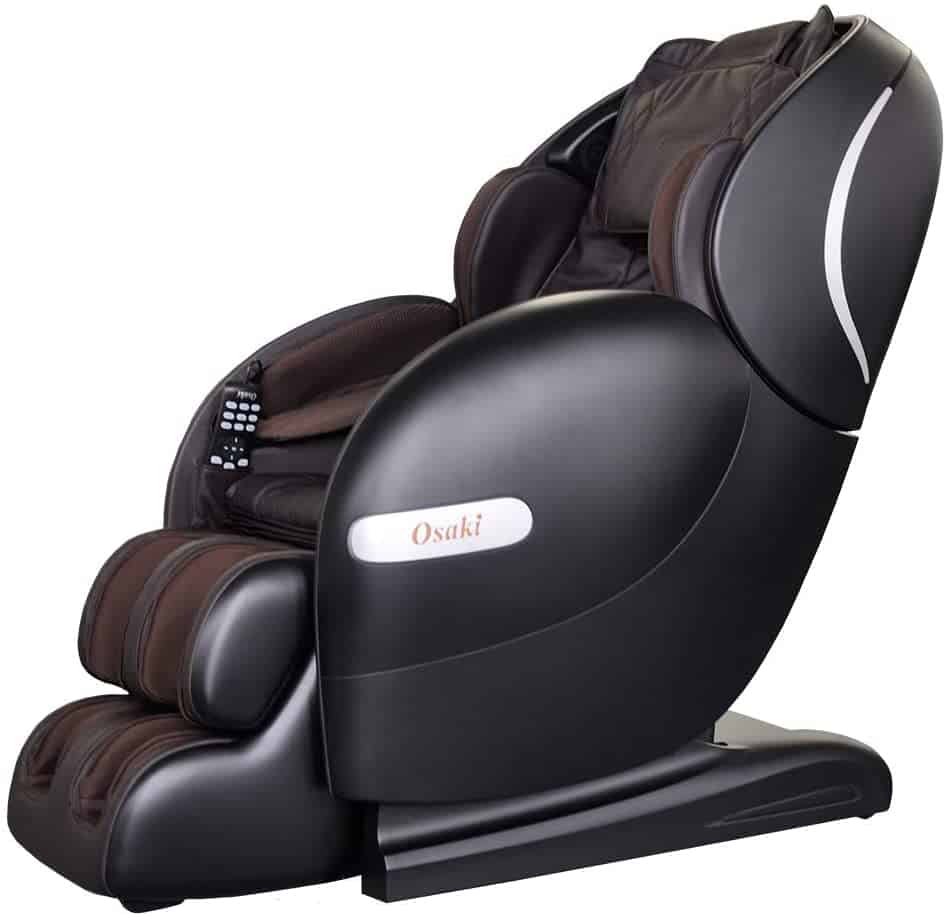 The Osaki OS-Monarch will have you sitting pretty and relaxed in no time at all. Whether you want to have a full-body massage or focus on a particular spot on your back, this fine chair will perform tapping, kneading, knocking, or shiatsu as you listen to music through the high quality Bluetooth speakers.
The Osaki OS-Monarch has exemplary 3D massage technology, including 4 levels of intensity control, as well as full-body air massage. In the backrest portion of the chair, you can even control the length of the rollers for the optimum massage. Do you have tired feet? This chair's unique foot roller massage provides three rollers with spinning reflexology that allow for a soothing kneading-style massage.
This chair has a USB connector built right in so you can use your phone or i-pad; however, if you are relaxing… Why would you want to bother? But, they are there if you need it! It also has options for three languages; English, Korean, or Chinese. The Osaki OS-Monarch can sit very close to your wall as it only needs one inch to get into the reclined position.
Pros
Consumers say it's a great investment
Gives deep tissue massages
Easy assembly
Cons
Not ideal for larger framed people
Is not top-of-the line, but sufficient for a first massage chair for the price
Curbside service only; will not assemble for you
6
Relaxonchair MK-II Plus Full Body Zero Gravity Shiatsu Massage Chair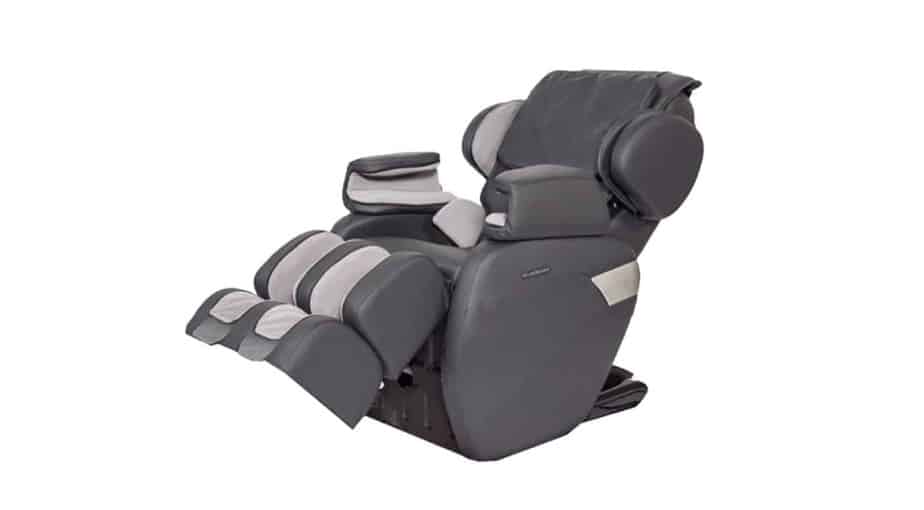 Boasting similar features to others on this list is Relaxonchair's full-body L-shaped massage chair. Many happy customers praise the affordable but full-featured chair's 3 zero-gravity positions, built-in smart sensors that tailor your massage to the length of your spine, and uniquely designed adjustable airbags with 3 levels of intensity.
The Relaxonchair model offers 5 manual massage modes: rolling with dual rollers, kneading, tapping, a kneading and tapping combination, and shiatsu. Users report that the buttlock L-tracking system makes this chair an ideal choice for users who suffer from sciatica or painful glutes. Separate arm massagers and calf and foot massagers, plus 2 heating pads in the lower back, complete your massage.
Customize your massage with the manual mode of your choice, or just sit back and relax while the chair performs one of its 4 fully automatic programs – Deep Tissue, Relax, Rejuvenate, and Stretch (also called the spinal decompression function).
Pros
Beauty hip massager feature
3 zero-gravity positions
4 pre-programmed massages
Cons
Foot massage too intense
Not space-saving (needs 2-3 feet)
Hard-to-use remote control
7
Osaki OS-4000T Zero Gravity Massage Chair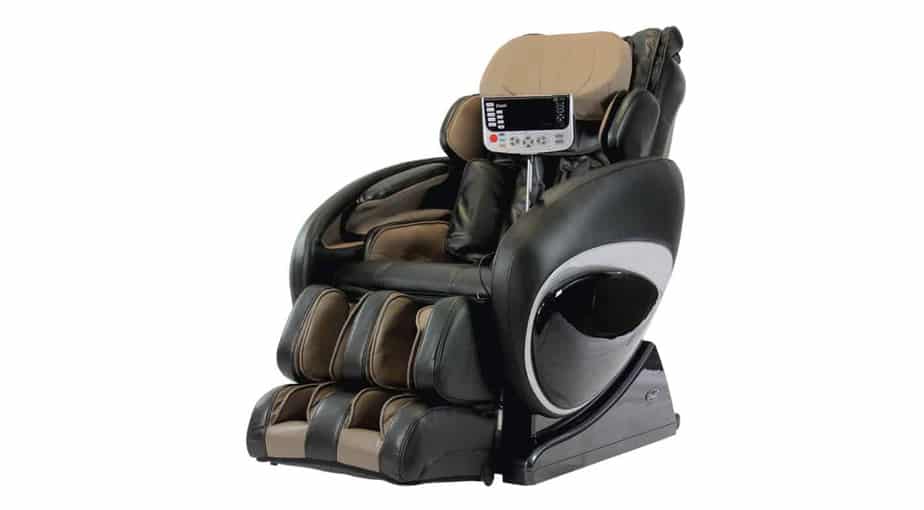 At a more middle-of-the-road price point is the Osaki OS-4000T. Next-generation air massage technology covers more surface area with fewer total airbags (38) for a more comprehensive massage and a more durable chair. A standout feature is the OS4000T model's upgraded reflexology foot roller. Perfect for users who spend a lot of time on their feet, the 2 rows of spinning rollers knead the soles of the feet for a deep acupressure massage.
The OS4000T has all of the features you expect from a massage chair at the $2,000+ price point, plus extras like a wireless remote. Zero-gravity positioning provides a deeper massage. Buyers love the high-tech body scan and adjustable twin rollers that mimic human hands.
Osaki's OS4000T S-track model does not extend the rollers all the way down to the glutes. However, 6 massage styles plus 6 pre-programmed massages offer a full-body relaxation experience. Users can adjust speed as well as the intensity of both rollers and airbags.
Pros
Unique reflexology foot massage
Effective next-gen airbags
2 stages of zero-gravity
Cons
Poor fit for users over 6' tall
Somewhat higher price point
Massage rollers stop at low back
8
RealRelax Full Body Shiatsu Massage Chair Recliner Favor-03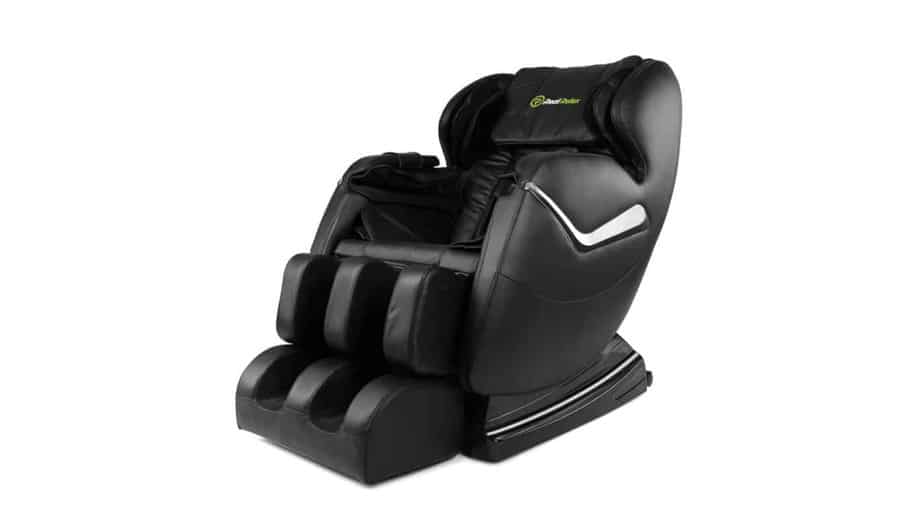 At the modest price point of $850, the Real Relax Full-Body Shiatsu Massage Chair Recliner Favor-03 is well worth what you'll pay for it. It includes high-end features typically found in expensive models, like zero-gravity recline, built-in heat therapy, and vibration.
One reason the Real Relax recliner costs so much less than competitors with comparable features is its old-school frame. Rather than an S-track design that follows the natural curve of your spine to the tailbone, or an L-track that extends this natural curve, this model is a fixed-frame chair. The roller mechanisms that deliver the back massage are stationary, only turning in place rather than delivering vertical strokes down the spine. The 4 automatic massages are simple, distinguished by intensity of pressure: sleep, mild, relaxing, and strong.
Despite the stationary rollers, air cell technology offers a full-body massage. A separate foot roller and heater extends the massage all the way down to your toes.
Pros
Zero-gravity massage function
Full-body massage with 50 airbags
Foot roller massage feature
Cons
Fixed frame, not S- or L-track
Poor fit for tall and short users
May be too intense for some
9
Best Massage Electric Shiatsu Full Body Massage Chair
BestMassage offers a zero-gravity massage chair in which all you need to do is push a button… Your feet will rise to the same as your heart… and all stress and strain will leave your body. With fourteen massage points, how can you go wrong with this chair, right? And… It includes a heat therapy function to reduce pain and increase blood circulation.
This chair offers 6 preset massage programs highlighting various methods of manipulation bringing you the best massage experience ever. Do you need a good stretch? Are your feet hurting? This chair's air massage system features eighteen airbags! How nice would that feel on your achy muscles in your shoulders, arms, legs, hips, and feet?
As most massage chairs are a hefty investment, this electric Shiatsu Zero-Gravity Full-Body Recliner is very reasonably priced. Not sure where you want it? Move it around your home or office easily with the two back rollers. However, this chair takes up more room than some of our other options – It needs to sit 20 inches from the wall to recline!
Pros
Very stylish design
Easy to assemble
Suitable for taller frames – up to 6.2' tall
Cons
Only has basic roller action; no tapping or kneading
Not good for just regular seating
Airbags may be too intense for some
10
YITAHOME Zero Gravity Massage Chair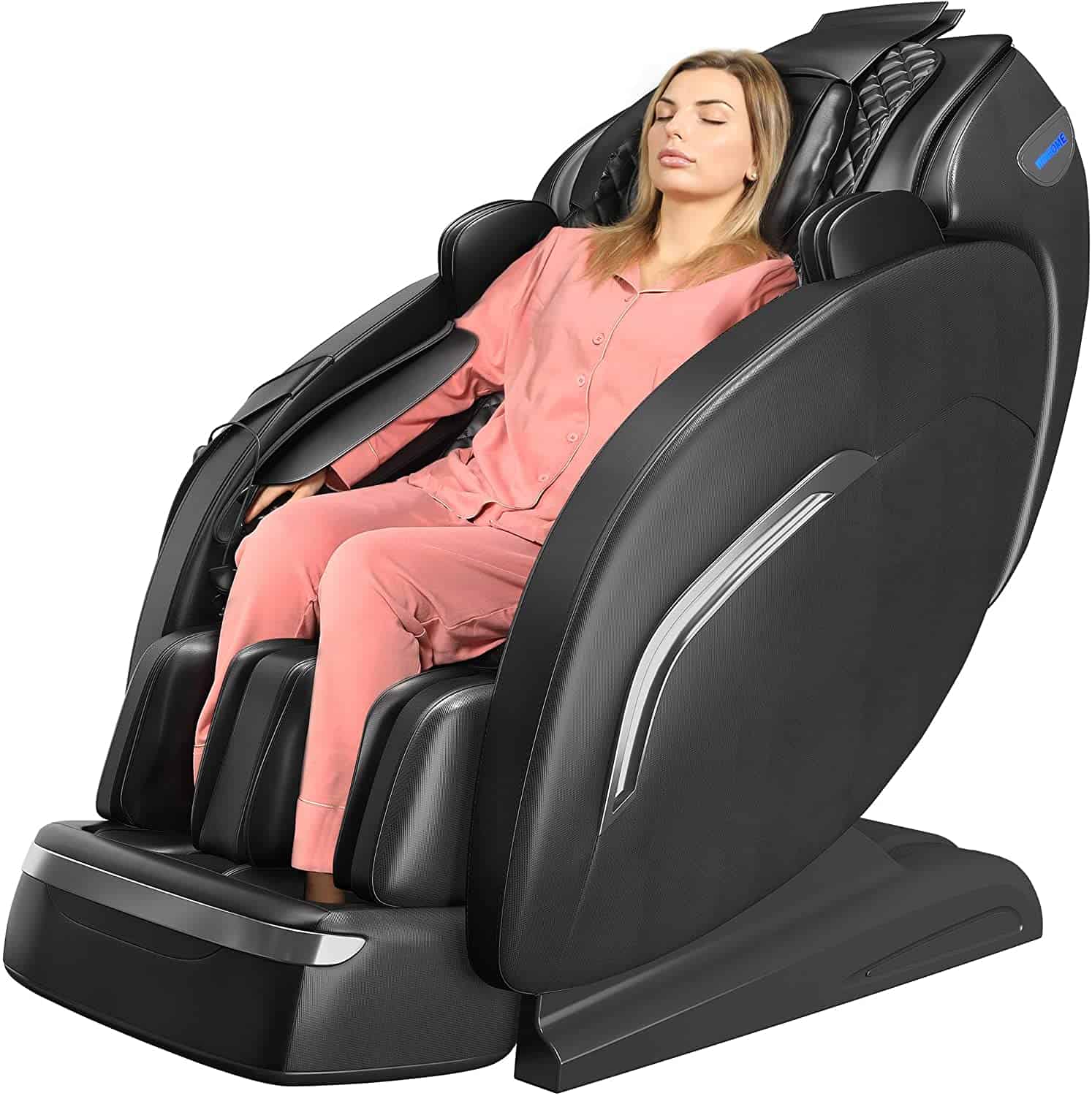 This fully assembled massage chair by YITAHOME is ready to be delivered to your home. This chair features a luxurious experience through its upgraded SL track and dual electric linear actuators. Their ergonomic designed massages begin at your neck and work their way down your back and legs.
If you enjoy a good massage from your favorite spa, you will enjoy the "3D Robot Hands" that this chair offers. The soft rollers and air massage are particularly designed to relax the shoulders, back, arms, hips, legs and feet. It also provides heat for the lumbar area. Do you enjoy the feeling of a zero-gravity chair? Well, you're in luck because this one actually has two levels of zero-gravity angles. 
In addition, this chair is sleek looking, space saving (can be placed 2 inches from the wall), and is equipped with Bluetooth speakers. The chair includes six manual modes and six auto modes… That makes twelve total massage options! It holds a maximum weight of 200 pounds and is best for consumers who are 5.9 feet tall or less. Seat width in 20.08 inches
Pros
35 preprogrammed massages
Zero-gravity massage
Space-saving design (2" of space)
Cons
Exorbitant $8,000 price point
Less high-tech for the price
No body scan or all-over heat
What's the Difference Between a Massage Pad and a Massage Chair?
When people think "massage chair," what they usually imagine is a massage pad, only bigger and fancier. But it would be more accurate to say a massage chair is an "artificial massage therapist."
The most basic massage chair uses a gentle vibration, perhaps with an added kneading motion, to relieve muscle tension. You don't need to purchase an entire chair to get this level of massage. Massage "pads" are also available, which you merely drape across your office chair and plug into an outlet.
Here are some of the ways a massage chair differs from a standard massage pad:
More Types of Massage
The biggest difference between a massage chair and a massage pad is the former can perform several types of massage. Did you know there are up to a dozen different types of massage? Not many people know it, but a massage pad is actually employing a technique known as "Swedish massage"—albeit at a very basic level. But this is the only type of massage it can perform.
A massage chair combines elements from various types of massage. For example, it can do a Swedish massage, no problem, but it can also do a deep-tissue massage, which is like the Swedish massage, but with more pressure. In recent years, massage chairs have advanced to the point of offering shiatsu massage.
Even the best massage chairs can't do every type of massage. For example, hot stone massage, aromatherapy massage, and reflexology massage require a careful human touch. Still, the best massage chairs are the next best thing when you can't get to a professional massage therapist.
Full Body
At its best, a massage pad can only cover a few parts of the body, usually the buttocks and lower back. While these are critical areas, such limited treatment is a far cry from the spa experience. A massage chair is typically a full-body experience. This means it has a series of rollers and pressurized airbags and internal mechanisms the entire length of the recliner. You can be massaged from your temples to the bottom of your feet!
Bonus Features
A massage pad has one job: massage. Granted, this is also the main job of massage chairs, but they try to give you a massage experience. Their goal isn't really to give you a massage and then call it quits: They want you to be relaxed and rejuvenated. For this reason, they will often include a large array of bonus features. These include (but are not limited to) Bluetooth and internet connections, customizable massage programs, and even calming waterfall noises.
What Massage Techniques Can a Massage Chair Perform?
If you go to a spa, you can order a special type of massage: hot stone, sports, reflexology, prenatal, shiatsu, Thai, the list goes on! But while it can draw from various massage principles, ultimately a massage chair is a unique massage experience that uses a variety of different massage techniques. The more techniques it offers, the better the massage—theoretically. They can achieve these techniques in various ways: internal mechanisms, pressurized airbags, rollers, etc. A standard, high-quality massage chair offers a combination of the five following techniques:
Kneading
As you might imagine, kneading involves applying different levels of pressure over a small area, often in circular motions. Kneading has a "grabbiness" to it that helps loosen and stretch muscles.
Tapping
When done by a human, the tapping technique uses the side (or tip) of the palm and fingers to rapidly "tap" a broad surface area. This is usually done gently. The tapper is constantly moving; they don't linger to tap in one place for very long. The effect is similar to vibrating.
Knocking
Knocking uses the same principles as tapping, but it differs in technique and pressure. The hand strikes the body transversely across the body's muscle fibers, which dilates the blood flow and increases circulation.
Shiatsu
Shiatsu first appeared in Japan in the 19th century but quickly became a worldwide favorite. Shiatsu means "finger pressure," or acupressure. It is based on ancient Japanese theories of energy flows in the human body. These center on "meridians," which can get blocked. Shiatsu uses finger and palm pressure to "open" these meridians and let the Qi flow in the body.
Whether or not you believe in Qi or meridians, the technique is proven to relieve tight muscles and promote relaxation. It uses concentrated pressure to disperse parts of the body where tension tends to build up.
Heating
As hot stone massage therapy has shown, the application of heat is, indeed, a massage technique. It is known to relax the muscles and promote blood flow, which can relieve sore and achy joints and muscles. Not all massage chairs offer this feature, but most do. When this feature is present, it tends to focus on the lumbar region, but some chairs offer it across the full body (like the Kahuna SM-7300).
What Is a Zero-Gravity Position?
As you shop for massage chairs, you will likely come across the term "zero-gravity position." Typically, this is achieved by reclining the body backward until the knees are slightly higher than the heart. This balances the body on its center of gravity, creating a sensation of weightlessness (hence, "zero-gravity"). But it's not all about creating a certain sensation. Chairs that offer this feature create a series of benefits.
Deepen the Massage
By raising the lower half of the body, this position shifts most of your body weight to the top half. This increases the amount of force with which the back, shoulders, and lower back press against the chair. The added pressure allows the rollers and other massage mechanisms to perform a more penetrating massage to the deepest muscles.
Relieve Pressure
With the legs elevated, stress is lifted from the spine. This gives the lower back the opportunity to relax and enjoy the deeper treatment. It also improves blood flow. As blood rushes from the legs to the upper body, the heart will work harder. But this is good. It will improve your circulation and make sure oxygen is being supplied to those achy muscles.
The zero-gravity position is a desirable feature in any massage chair. It is a simple way to get more out of your massage. However, there are at least a few drawbacks. First, chairs with this feature tend to be more expensive. Second, they require more space. While several massage chairs recline just slightly, a chair with zero gravity needs a lot of real estate, and it should be stationed several inches away from the wall.
What Are the Different Types of Massage Chairs?
Massage chairs come in various shapes and sizes. You must be able to distinguish between the various frames, types of track designs, and other key features. The simplest distinction is chair design. Most full-body massage chairs are recliners with a built-in footrest complete with leg massage ports. Some massage chairs have separate ottomans. Others are merely portable cushions called massage pads.
Track design refers to how the mechanisms of the massage chair work. The least advanced chairs have fixed frames of stationary massagers that pulse, vibrate, or turn. What they don't do is move along your spine like a human massage therapist's hands. These chairs tend to offer a less authentic experience, but with adjustable settings, they can still give a relaxing massage.
At first, all massage chairs had fixed frames, but today, most—though not all—of the best massage chairs have rollers that move on a track. In S-track chairs, rollers that move along the natural curve of your spine. L-track rollers continue that curve past the lower back and around the buttocks and glutes.
Certain features are significant enough to stand out as a type of massage chair. While you won't see this occur with trivial features like wireless remotes or Bluetooth compatibility, you might consider core features like zero-gravity massage and space-saving design types of massage chairs. Other technologies that could be considered types include full-body air massage technology and full-body stretching capabilities.
What Are the Best Massage Chairs?
Whatever your budget and your massage needs, you want the best chair for your money. RAVE has your back (get it?). To identify the best massage chairs on the market, we analyzed all the data from the most trusted review sites.
The best massage chairs feature a track design. Innovative L-tracks should always be preferred to stationary rollers. They also feature in-demand features, like zero-gravity, next-gen airbags, and space-saving designs. They offer a panoply of massage options. They are customizable, and the more adjustable the chair, the better. The best chairs offer the best value for the cost. Finally, they come with a bunch of delightful extra bells and whistles, like Bluetooth music streaming and high-tech remotes.
The Kahuna LM-6800 Massage Chair was the best massage chair out there, but we found close contenders at every price point. BestMassage's under-$1K EC201 model had the best features around at a budget-friendly price point. For tall folks who have trouble finding a massage chair that fits, the roomy Kahuna SM-7300 has extra space to fit frames up to 6'5". And for the indulgent, there's the luxurious Luraco iRobotics 7 PLUS.
A massage shouldn't have to be a luxury that you can only rarely have due to the cost and the inconvenience. Owning a massage chair lets you enjoy the therapeutic benefits of an authentic, professional-quality massage as often as you want, whenever you want, at no further cost.
There are great massage chairs at every budget: affordable options like Best Choice Products' recliner-ottoman combo and Real Relax's Favor-03 and spare-no-expense chairs like Luraco i7 and Human Touch's Novo XT2. By shopping around, you can find high-end features like zero-gravity massages even in mid-priced massage chairs like Relaxonchair's MK-II Plus, iDEAL Massage's luxury chair, and Osaki's OS4000T model.
RAVE Recommends
There is a pandemic affecting a tenth of the human population: chronic lower back pain. Luckily, there are ways to treat it. Check out the products below and take steps toward healthier, happier you:
Herman Miller Sayl Chair: If you're going to spend hours in front of a screen, you might as well do it in a chair that offers maximum support and comfort. Check out our review here!
Ultimate Office Chair Buying Guide: Improving your posture and fixing your lower back pain might require more than a massage chair. If you need a new office chair, this is your guide.
Santal 26 Classic Candle: What better way to improve your massage session than with some aromatherapy? You might be surprised how well it can help you relax.

Blake Adams
Blake Adams is a widely published educator, journalist, and copywriter. He lives with his wife and cat in…*throws dart at a map*…Elburn, IL.