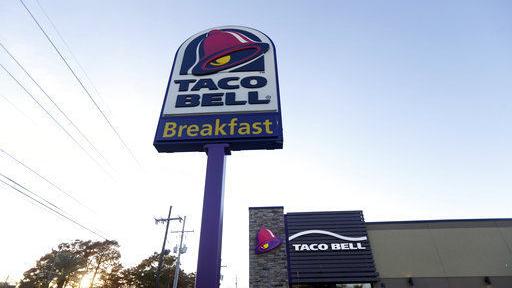 FILE – This Thursday, Dec. 15, 2016, file photo shows a Taco Bell restaurant in Metairie, La. Yum Brands, Inc., which operates Taco Bell, KFC and Pizza Hut, reports earnings, Thursday, Aug. 3, 2017. (AP Photo/Gerald Herbert, File)  The Associated Press

NEW YORK — Taco Bell restaurants, struggling to hire enough workers to keep up with a surge in sales as the U.S. economy recovers, is pitching a huge April job fair to hire at least 5,000 employees in one day. And it's adding benefits for some general managers to sweeten the pot.
Taco Bell, part of Yum Brands Inc., will hold spot interviews on April 21 in parking lots at nearly 2,000 Taco Bell locations, where some candidates won't even have to leave their cars to apply. It has also added four weeks of annual vacation, eight weeks of paid maternity leave, and four weeks of new parent and guardian "baby bonding" time for general managers at company-owned locations.
Taco Bell has used such hiring events before, but never at so many locations at once. "It is no secret that the labor market is tight," Kelly McCulloch, Taco Bell's chief people officer, said in a statement.
"Total nightmare" is the way FAT Brands Inc. CEO Andy Wiederhorn describes the staffing situation for franchisees of his company's restaurants, which include Johnny Rockets and Fatburger.
"The most recent stimulus check and unemployment benefits have been a catalyst for people to stay at home" instead of looking for work, he said.
U.S. job openings in the accommodation and food service industry increased by 104,000 to reach 761,000 on the last day of February from the prior month, according to federal data released last week.
Originally Appeared On: https://www.stltoday.com/business/local/total-nightmare-fast-food-struggles-to-hire-as-demand-soars-u-s-economy-roars/article_6d68b385-2e7d-5872-84f1-ee9f5f23c669.html