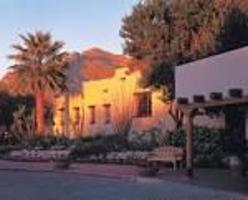 For at least 10 years, and for transparent reasons, the Town of Oro Valley has wanted to annex the Westward Look.
The 78-acre resort—officially the Wyndham Westward Look Grand Resort and Spa—is a tax-generating, prestigious destination, one of the half-dozen or so major properties that have lured visitors and meeting business to Southern Arizona for decades.
On May 21, after an exhaustive process, analysis, negotiation and decision-making, the Westward Look became part of Oro Valley. Our Chamber is pleased to welcome The Look.
Contiguity allowed the annexation in the first place. Within the Suffolk Hills subdivision, at the Look's northwest edge, the Town and the Westward Look have shared a 547-foot common boundary, above the required minimum of 300 feet for annexation. Adjacency is a prerequisite to annexation; motivation is a requirement. And, in 2020, both parties had it.
Why would Oro Valley want to annex the Westward Look? That's easy. Revenue, which is ultimately the reason any government would absorb existing businesses. According to a November 2020 study prepared by Applied Economics, with the receipt of sales, utilities and lodging tax revenues, within 10 years the town can expect a "positive annual net impact of about $916,000 per year for the existing resort," with an additional $61,000 to $562,000 in fees and taxes paid for any new development along Ina Road. Oro Valley spends about $40 million a year to provide the services and infrastructure we all enjoy, so adding not less than 2.5% to the pie is certainly in the best interests of the community and its citizens.
There's also a prestige the Westward Look brings to Oro Valley. It's a drawing card, shining now with a $10 million refurbishment, joining El Conquistador Tucson, A Hilton Resort as Oro Valley's second front door to the world.
Why would the Westward Look want to be annexed into Oro Valley? Again, the motivation is financial. The pandemic has pounded the hospitality industry, wiping out meeting and convention business, and whittling leisure stays. For its long-term viability, ownership of the Westward Look sought new permissions and new zoning on a total of 18 acres of undeveloped land directly north of Ina on either side of Westward Look Drive. It has now gained such permissions, within a sometimes dizzying array of development alternatives that range from apartments, attached single-family residential and hotel uses to commercial, office and restaurant businesses.
Of course, the residential neighbors of the Westward Look are less than enthused about seeing Ina-bordering property developed. That's understandable, and respected. Any time development is proposed near homes, neighbors exercise their legitimate rights to protect their private property and their way of life.
The Look's neighbors have spoken, loud and clear, in several neighborhood meetings via Zoom during the pandemic, two hearings before the Town's Planning and Zoning Commission, two hearings before the Oro Valley Town Council, and innumerable emails and conversations with town officials. With emotion, they have expressed concerns regarding compatibility of use, land use transitions, open space, wildlife conservation, building height, buffer yard expansion, traffic, lighting, privacy, allowed uses, maturity of trees, location of dumpsters—all valid, all heard repeatedly, and many addressed.
Up front, and throughout, the Town agreed that a previously designated 20.5-acre parcel of open space within the resort shall be protected from development. Additionally, the Town has agreed to take primacy over that section of Ina Road, and to resurface and relandscape a portion of Westward Look Drive now, rather than later. All that is right and appropriate.
As the Oro Valley Chamber president/CEO for 10 years, as a supporter of smart growth and as an OV resident since 2007, I have watched Oro Valley government up close. Its processes, and its commitment to public involvement, can be lengthy and difficult. More than a few times I have shaken my head in exhaustion.
But thorough process and public participation are core values in Oro Valley. This government listens to neighbors, and the development community must respond. When it comes to development in Oro Valley, nobody gets everything they want, but everyone gets something. That's how Oro Valley goes about its business.
We hope neighbors recognize their beautiful place is close to greater Tucson's second-busiest intersection, Ina and Oracle. Growth on the north side of Ina is coming. The challenge is to make development palatable to neighbors while serving the needs of private owners, governments, the public at large and the land itself. Neighbors will raise their voices again when development moves forward, as they should. And they'll be heard.
Oro Valley staff has expressed its "commitment to quality development" along Ina Road. So it shall be. In Oro Valley, quality development is always the final result.
Welcome to Oro Valley, Westward Look!
Dave Perry is president/CEO of the Oro Valley Chamber of Commerce
>>>ad: Don't Miss TODAY'S BEST Amazon Deals!

Originally Appeared Here