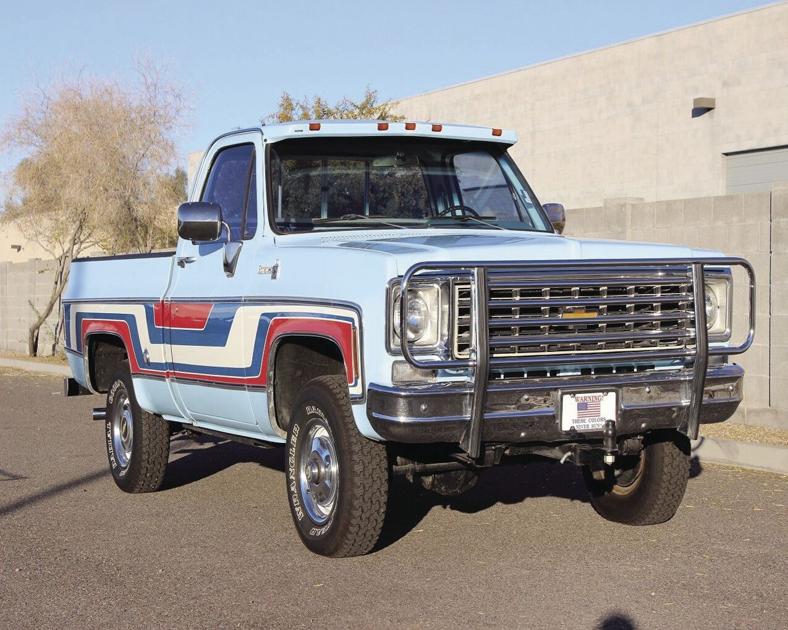 It's hard to fathom a time when vehicle manufacturers had to entice buyers to purchase pickup trucks, luring them with special edition models, but there was a time when pickups appealed mainly to tradesmen, farmers and fleets. Consumer pickups were configured as a single cab with a 6- or 8-foot bed while crew cabs were special-ordered units reserved for, as the name implies, crews of workers like utility, construction or woodsmen.
To appeal to the average guy who might be on the fence about spending money on a truck or sporty car, automakers turned to bright colors and graphics, releasing special-edition rigs targeted at regional and national audiences. This was the malaise era of cars during the 1970s and 1980s, when quality was questionable and performance was steadily choked by increasing emission regulations.
Vehicle manufacturers didn't have much to work with besides decals and chrome, so many of these trucks faded into obscurity quickly as a collision or repaint would wipe out their significance.
Smack in the middle of the 1970s, the country celebrated its bicentennial, a yearlong fete honoring 200 years of independence and an occasion no one in marketing could pass up.
Bicentennial edition vehicles popped up from every automaker, with General Motors releasing its "Spirit of America" package across its car and truck line, and International promoting its Patriot edition Scout and Lightline pickups. Ford went the broader route with its Bicentennial Option Group, and most others offered some form of "Spirit of '76" package. All were available in shades of red, white and blue, while some featured stars, eagles, flags, banners or script highlighting the special package. Interiors were usually a correspondingly colorful vinyl upholstery, and they rolled on as examples of marketing jingoism.
Dodge seemed to be a frequent adopter of special-edition trucks, with most aimed squarely at the tough-guy image with models like the Power Wagon and the Macho edition Power Wagon, a sort of special-edition special edition. Where their marketing department fell short was when they chose scrawny comedian Don Knotts to represent their 1970-71 Sweptline pickup package called "The Dude." Deputy Barney Fife seemed an odd choice to hawk a "tough truck" option. Later in the decade, they produced the Warlock, Lil' Red Express and the Midnight Express pickups, all short-bed step-side trucks in black or red with gold graphics, exhaust stacks and V8 engines.
These are just a few examples of Dodge's "Adult Toy" collection. More obscure choices included the "Jean Machine" in denim blue paint with simulated yellow stitching highlighting the body lines and a few replicas of offroad trucks from racer Rod Hall.
International never had much luck entering the mainstream pickup market, instead focusing its marketing and distribution toward rural areas. They did offer several special-edition Scouts, their SUV line, but they let the utility of their pickups speak for itself.
Still, in 1971, they brought forth the Johnnie Reb edition half-ton pickup. As the name suggests, young Southern guys were the intended demographic, and the trucks were painted two-tone gray and red with white stripes and large stars on the hood and a caricature of a Confederate soldier, saber drawn displayed on the rear flanks. Yes, it was a different time.
Jeep wasn't immune from special editions, with the Golden Eagle package adorning its full-size pickups, SUVs and CJs. In addition, the Levi edition Jeeps were available across the line featuring interiors resembling Levi jeans with similar stitching and padded dash and sun visors, though contrary to the name's implication, the upholstery was not actually denim — even Levi's has its limitations.
One pickup-specific Jeep special edition was the Honcho package, available as a stepside or fleetside J-10 pickup and featuring flared fenders, wide steel "wagon" wheels, body panel decals and a mandatory-for-the-1970s bed- mounted roll bar.
Ford's Freewheeling edition trucks and Broncos of the early 1980s sported full side-panel colorful rainbow graphics and many of the other period accessories like styled wheels, raised white letter tires, roll bars and offroad lights. I remember looking at these new at a Ford dealership in Plymouth, Mass., with my father shortly after his Buick wagon was stolen and thinking how cool it would be to cruise the beach in one of these high-boy 4x4s. But, alas, Dad and I never shared cool-car DNA, and, ever the pragmatist, he chose a Datsun 210 instead. That hatchback did have a sporty three-colored stripe that I thought of as his small concession to my sporty automotive desires, but in reality they were just a dealer-installed option previously applied and included in the sticker price.
Many other little-known special-edition pickups were available during those decades, from the upscale GMC Gentleman Jim and their Beau James packages, plays on GMC's nickname, Jimmy.
Chevy had the compact LUV pickup Mighty Mike package and the Big 10 heavy-duty half-ton, Ford introduced the Bigfoot edition in the mid-1980s based on a popular monster truck of the time, and almost any carmaker who sponsored an Indy Pace Car at the famous raceway offered an Official Indy Truck package.
Accessories and graphics might not add much to their performance, but as a kid they sure made for some interesting truck watching.
Eric and Michelle Meltzer own and operate Fryeburg Motors, a licensed, full-service automotive sales and service facility at 299 Main St. in Fryeburg, Maine. More than a business, cars are a passion, and they appreciate anything that drives, rides, floats or flies.
Originally Appeared On: https://www.conwaydailysun.com/business/local/wheels-special-edition-pickups/article_9e535282-9ae3-11eb-b718-67baa073b77b.html