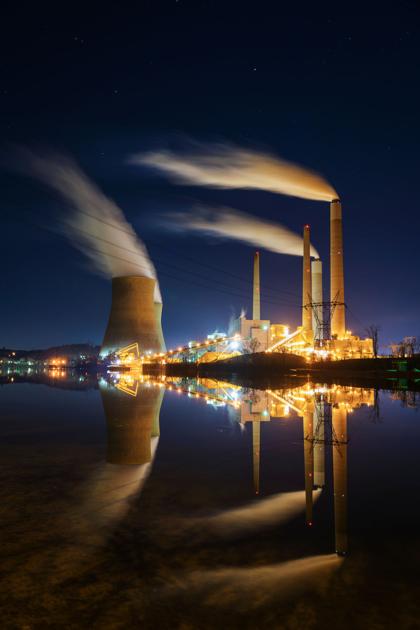 The climate is changing more because West Virginia's economy is changing less.
West Virginia's per capita energy-related carbon dioxide emissions were third-highest in the country in 2018 and decreased less than 14% from 1990 to 2018, according to a Charleston Gazette-Mail analysis of U.S. Energy Information Administration data. That's a greater decline than only 14 other states.
The carbon intensity of West Virginia's economy — metric tons of energy-related carbon dioxide per dollars of gross domestic product — was second-highest in the country in 2018, behind only Wyoming and nearly as much as Kentucky, Ohio and Pennsylvania combined. The carbon intensity of West Virginia's economy declined 32.9%, a larger decrease than only 13 other states.
Coal-fired electric power plants accounted for 91% of West Virginia's electricity net generation in 2019. But coal accounted for just 23% of the nation's net electricity generation overall that year, according to the Energy Information Administration.
"[The numbers are] a clear indicator that if we don't begin to act, West Virginia risks falling behind as the rest of the country and world at large transition to a low-carbon economy," said Leah Barbor, West Virginia field organizer for Moms Clean Air Force, a network of parents working on local and national air pollution policy issues.
American Electric Power's Mitchell coal-fired generating facility was among West Virginia's 14 electric power plant sites that combined to emit 62.6 million tons of carbon dioxide in 2019, per Energy Information Administration data. The Mitchell facility itself emitted more than 5.5 million tons of carbon dioxide in 2019, down roughly 3 million tons from its 2014 total amid a decline in power generation.
But that was still enough for emissions from the facility to prompt health impacts in 2019 that included an estimated 19 deaths, four asthma emergency room visits, seven heart attacks and 188 asthma attacks, according to a Clean Air Task Force analysis of data derived from a federal screening model.
Eric Gimon, a senior fellow at the San Francisco-based nonpartisan energy and climate policy firm Energy Innovation, said he hopes estimated health impacts of coal-fired generating facilities don't get short shrift.
"Why are those strangers more important than the strangers that are dying every year?" Gimon said of workers who would lose their jobs if the Marshall facility shut down. "There's a moral calculus that's kind of tricky."
Carbon dioxide is a greenhouse gas that enters the atmosphere through burning fossil fuels such as coal, oil and natural gas. It traps heat in the atmosphere, causing global warming and resulting in rises in extreme weather events, sea levels and food supply disruptions.
Environmental impact mitigation is what imperils the Mitchell plant's future now.
American Electric Power subsidiaries Appalachian Power and Wheeling Power sought approval from the Public Service Commission of West Virginia in December to make environmental modifications to the Mitchell facility as well as the John Amos and Mountaineer coal-fired plants in Putnam and Mason counties, respectively.
The three facilities emitted about 24 million tons of carbon dioxide combined in 2019, according to the Energy Information Administration.
The companies say they could make modifications to comply with the wastewater rule and a federal rule regulating coal combustion residuals at the Mitchell, Amos and Mountaineer facilities that would allow each of those plants to operate until 2040. The filing argues it would benefit customers to ensure compliance at the Amos and Mountaineer plants and keep them operating until the end of their projected useful lives in 2040.
But the companies report that performing only the coal combustion residual compliance work at Mitchell and retiring the facility in 2028 has "comparable costs and benefits" to making the additional wastewater compliance investment to allow the plant to operate beyond 2028. Replacing a portion of the retired Mitchell capacity with a portion of Appalachian Power's excess capacity in 2028 would result in savings to West Virginia customers of approximately $27 million annually from 2029 to 2040, the companies said in the Dec. 23 filing.
Appalachian Power and Wheeling Power are seeking permission to perform all of the work at all of the plants, which they estimate would cost $317 million. The utilities listed potential project-related residential, commercial and industrial rate increases of 1.59%, 1.52% and 1.72%, respectively. The proposed increased project-related rates and charges would produce $23.5 million annually in additional revenue, according to the companies.
The West Virginia Public Service Commission will rule by Jan. 27 on the Appalachian Power and Wheeling Power case for a certificate for plant modifications.
A videoconference public comment hearing on the case will be held at 9:30 a.m. June 2 and an evidentiary hearing will be held June 8-9. Because half the Mitchell facility is owned by American Electric Power subsidiary Kentucky Power, the Kentucky Public Service Commission will rule on a companion certificate case by Aug. 6.
The Mitchell plant began operating in 1971.
American Electric Power has committed to growing its renewable generation portfolio to more than 50% of its total capacity and reducing carbon emissions 80% from 2000 levels by 2030.
Energy Innovation published an analysis earlier this month estimating that replacing the Mitchell facility with new wind power would be 34% cheaper than the facility using its existing coal power.
"[C]arbon-intensive industries are not performing well," Gimon said. "Betting so much of my livelihood and economy on carbon-intensive industries doesn't seem like a great way to preserve my future and make sure my children and grandchildren can live in West Virginia and prosper."
Union of Concerned Scientists senior energy analyst Jeremy Richardson comes from a third-generation coal mining family in Marion County and noted that West Virginia has seen more heavy rains in recent years as a result of climate change.
"It is a global problem and we have to address it," Richardson said. "But we as a coal state should not have to bear all the pain from that shift. That's not fair."
Richardson coauthored a report with Utility Workers Union of America government affairs Director Lee Anderson published earlier this month that identified Marshall and Boone counties as two of the 28 most at-risk coal counties based on existing or recently lost jobs in coal mining or coal-fired power plants.
The report called for five years of comprehensive wage replacement, guaranteed health care coverage, continued employer contributions to retirement funds or pension plans that recognize time of service, paid tuition for academic and vocational programs, job placement assistance and potential relocation allowances.
That would cost $33 billion over 25 years or $83 billion over 15 years, the report estimates.
"[That's] a small fraction of the money that will be invested in the energy system in the coming decades as we shift to a low-carbon economy," Richardson and Anderson wrote.
A price tag so high portends a painful shift for West Virginia as it persists in relying on coal-fired generation. In the meantime, the collateral air pollution damage coming from facilities like Mitchell will persist too.
"The longer West Virginia waits to start to do the work to clean up the power sector and diversify its economy," Barbor said, "the further behind we will be."